I haven't taken a trip in a long time. I know plenty of people who were still flying and going places during the pandemic but it didn't happen for me.
I'm hoping to make up for lost time with a handful of trips planned for the coming months.
I expect prices to rise to make up for lost time in the travel industry but hotel and airfare prices are surprisingly still below where they were in February 2020 before everything shutdown (via the WSJ):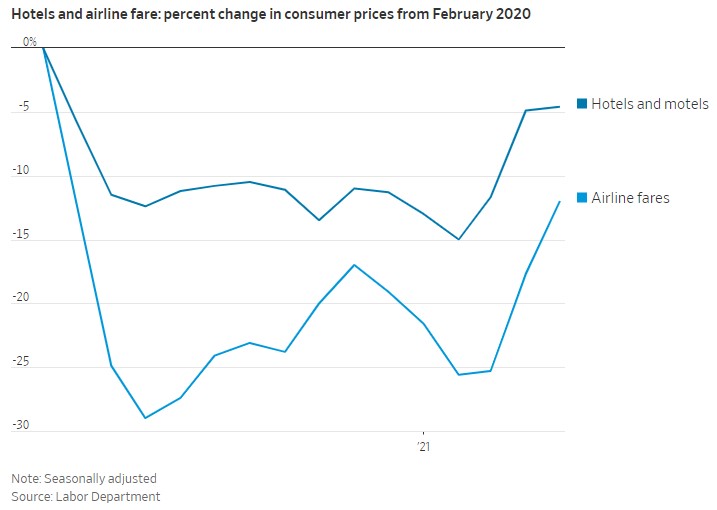 I don't expect this to last.
For those that are willing to play the game, I do think there is a way to potentially save on your travel expenses in the coming year.
Think about how many credit card points people are sitting on for hotels, airfare and other rewards that weren't spent in 2020. These credit card companies will be forced into sweetening the pot to attract new sign-ups for their cards since people are sitting on stockpiles of points.
That's a good thing for consumers with good credit.
CNBC had a story this week on a new Citigroup card with a nice sign-up bonus:
Banks have been falling over themselves to entice new credit card customers, dangling hefty 100,000 point bonuses and rolling out new products.
Now, Citigroup is making a push in one of the fastest-growing card segments.
The bank on Thursday is launching a credit card that gives users 5% cash back on up to $500 of spending per month in a category – from restaurants to groceries or travel – and 1% cash back on all other purchases, according to Pam Habner, Citigroup's head of U.S. branded cards.
Unlike existing cards from competitors including JPMorgan Chase, the new Custom Cash card doesn't require users to enroll in or select the categories for that 5% rate; instead it automatically applies the rate to a user's top category of spending.
Depending on how you use it, that 100k point bonus could be worth well over $1,000.
The Points Guy profiled what they call the "best ever" offer for the Chase Sapphire Preferred card last week:
With the issuer's ever-popular Chase Sapphire Preferred Card, you can now earn the highest sign-up bonus we've seen in this card's 12-year run. As of today, you can earn 100,000 bonus points after spending $4,000 on purchases within the first three months of account opening.
According to TPG point valuations, that is $2,000 in value from one card bonus. And this isn't a card you get just for the bonus — it is one of the best travel rewards credit cards on the market. The Sapphire Preferred has just a $95 annual fee, so there is tremendous value in this massive offer.
The Points Guy is obviously trying to sell you on this card here but that's still a pretty fantastic deal. If you play it right and book your hotels and flights through the Chase travel portal, it could be worth two grand.
I've probably done the credit card bonus deal close to a dozen times over the years and have walked away with somewhere approaching ten thousand dollars in value.
In recent years my wife and I each signed up for a Mariott Bonvoy card that basically paid for a luxury resort stay in Florida. Sign-up points from that card will pay for the majority of our trip back there later this summer.
This game is not for everyone.
Most of these cards force you to spend anywhere from $3,000 to $5,000 in the first 3 months to get the bonus. The ones with the big sign-up bonuses also tend to come with an annual fee. The rewards points typically more than pay for those fees but this is something to consider.
You can overdo it with these things, but I choose to believe my audience is people who don't overdo it with things like credit card debt.
If you're someone who pays off their balance each month, it's amazing how much value you can extract from the credit card companies.
Travel is going to make a huge comeback this year.
If you know what you're doing, you can save a lot of money through the selective use of travel rewards cards.
Michael and I talked about credit card rewards points and much more on this week's Animal Spirits video:
Subscribe to The Compound for more videos.
Further Reading:
Why Are Credit Card Interest Rates So High?
Now here's what I've been reading lately: