There's no question residential real estate in the United States is on fire. The latest Case-Shiller Index data showed an 11% year-over-year increase: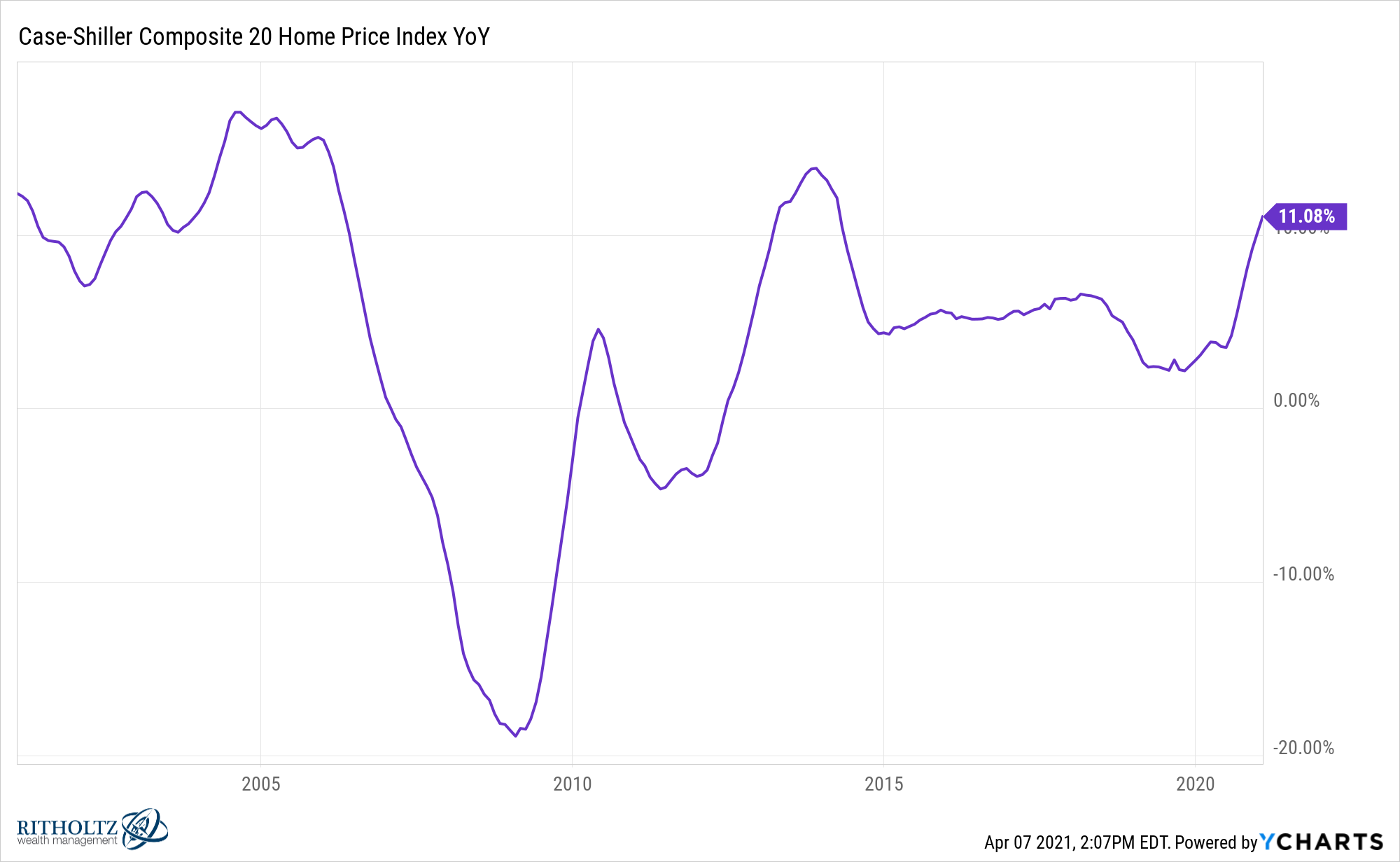 And this data is only through January. I would expect the numbers will be even higher in subsequent months.
We've all heard anecdotes of housing shortages and ridiculous all-cash offers.
The logical conclusion for many prognosticators is to call this yet another housing bubble.
I don't think this is the case. Here's why:
There are more credit-worthy borrowers. Yes, housing prices are rising at a rapid clip but this is nothing like the subprime crisis. Just look at the credit scores for mortgage originations: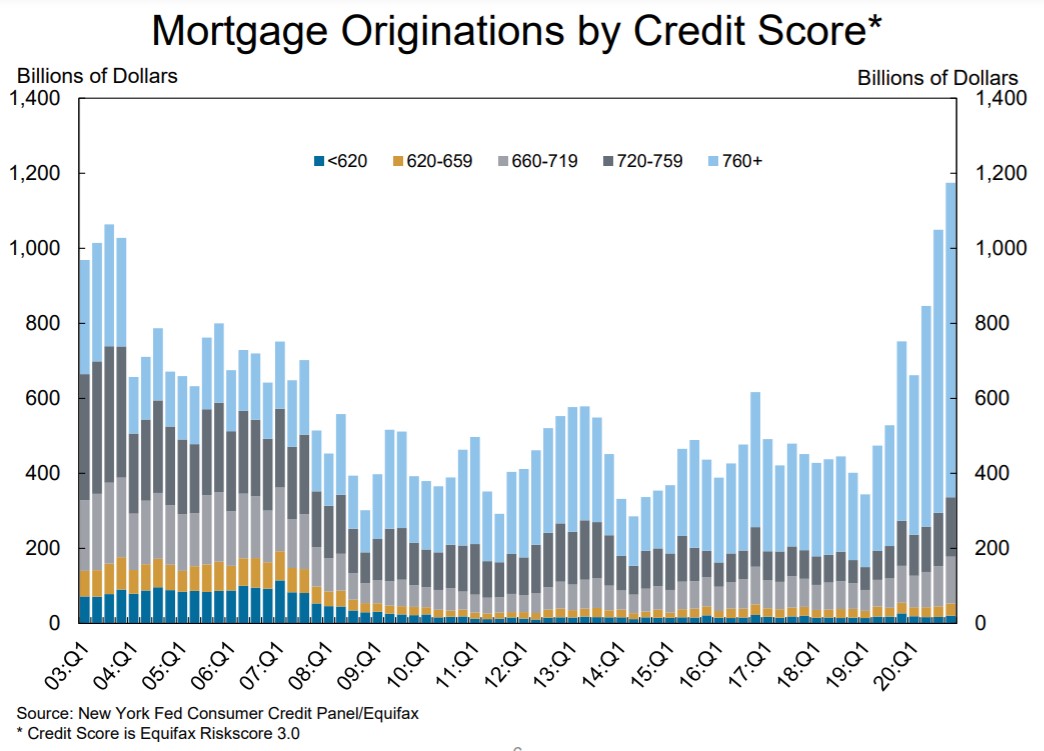 Loans are mostly being made to those with high credit scores and sizable down payments, the exact opposite of the subprime housing boom.
According to the Wall Street Journal, mortgage credit availability is near its lowest point since 2014. This means the banks pulling back on lending or households pulling back because they have been worried about the effects of the pandemic on their finances.
Either way, if more people eventually begin to take out loans this could actually lead to another leg higher in the housing market.
Supply is constrained but not for the reasons you think. The supply of existing home sales on the market is as low as its ever been on record going back to the late-1990s: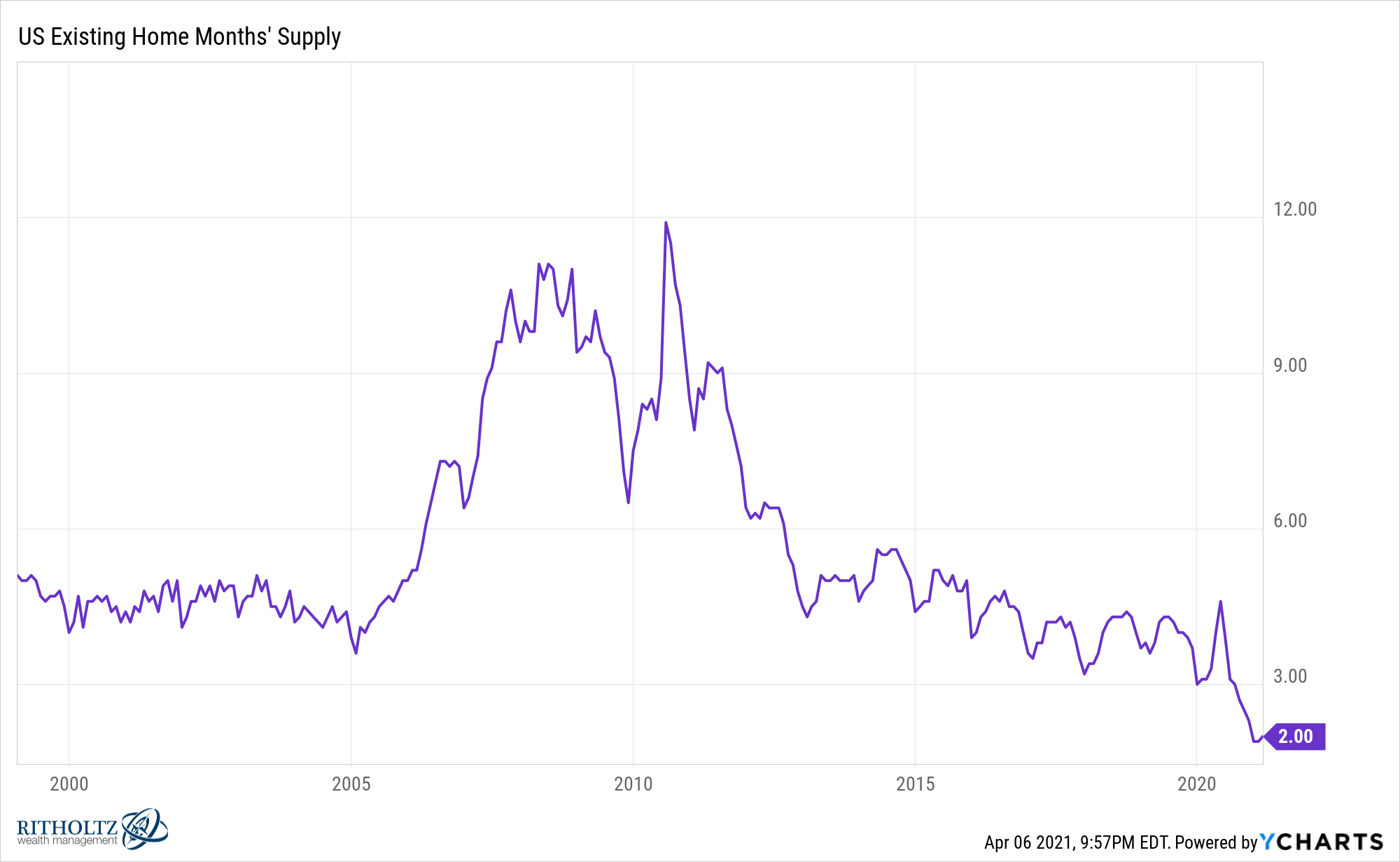 Yet the reason for this isn't necessarily a bunch of ravenous home-buyers. Yes, there has been an increase in people moving because of the pandemic and the work from home opportunities it has created.
There are also fewer homes on the market because so many homeowners felt uncomfortable having strangers walk through their house while an airborne virus is spreading around the globe.
And the hangover caused by the last housing boom and bust caused homebuilders to pull back on the number of homes they built: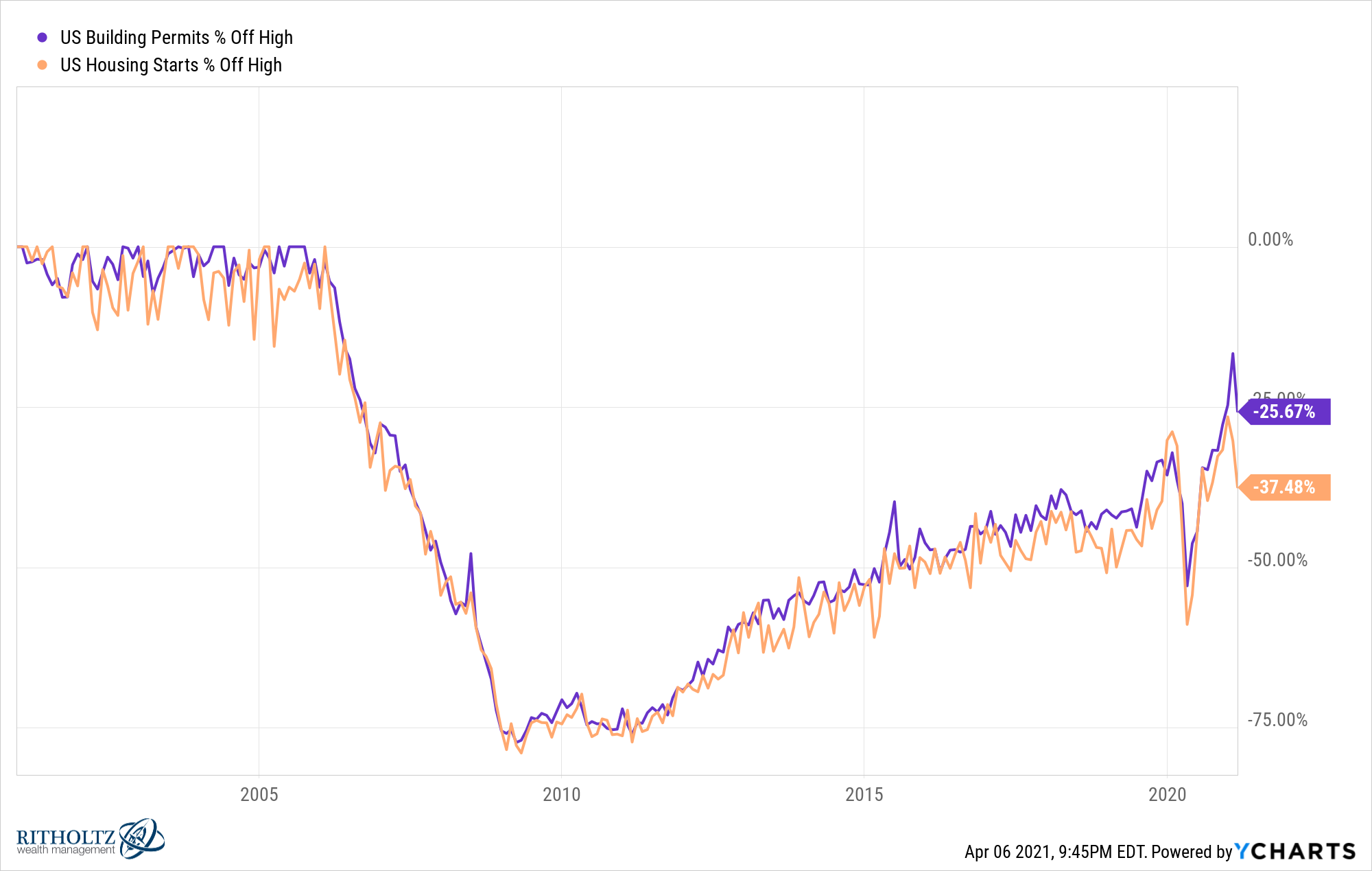 Homebuilders are still gunshy because they built so many homes during the last bubble and were left holding the bag in many instances.
Look at that spike in new homes around 2006 and 2007: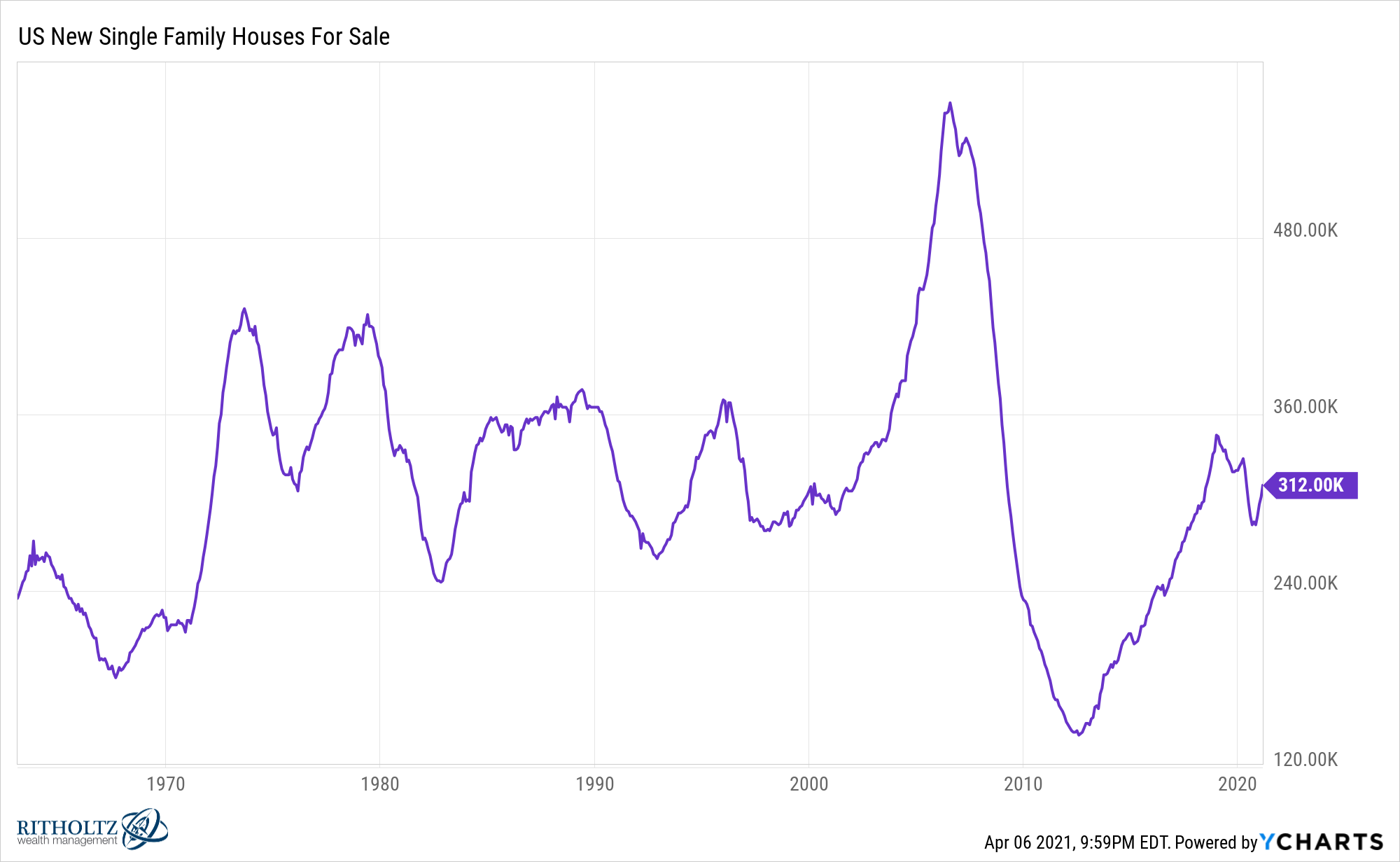 In some ways I don't blame these homebuilders but their reluctance to build is one of the signs things aren't nearly as frothy as they were in the mid-2000s.
The U.S. consumer balance sheet has improved. Another reason this is nothing like the subprime crisis is the state of the U.S. consumer's finances.
A combination of falling rates, some trepidation following the last crash and a healthy dose of stimulus payments mean the U.S. consumer is in better shape than they've ever been coming out of a recession: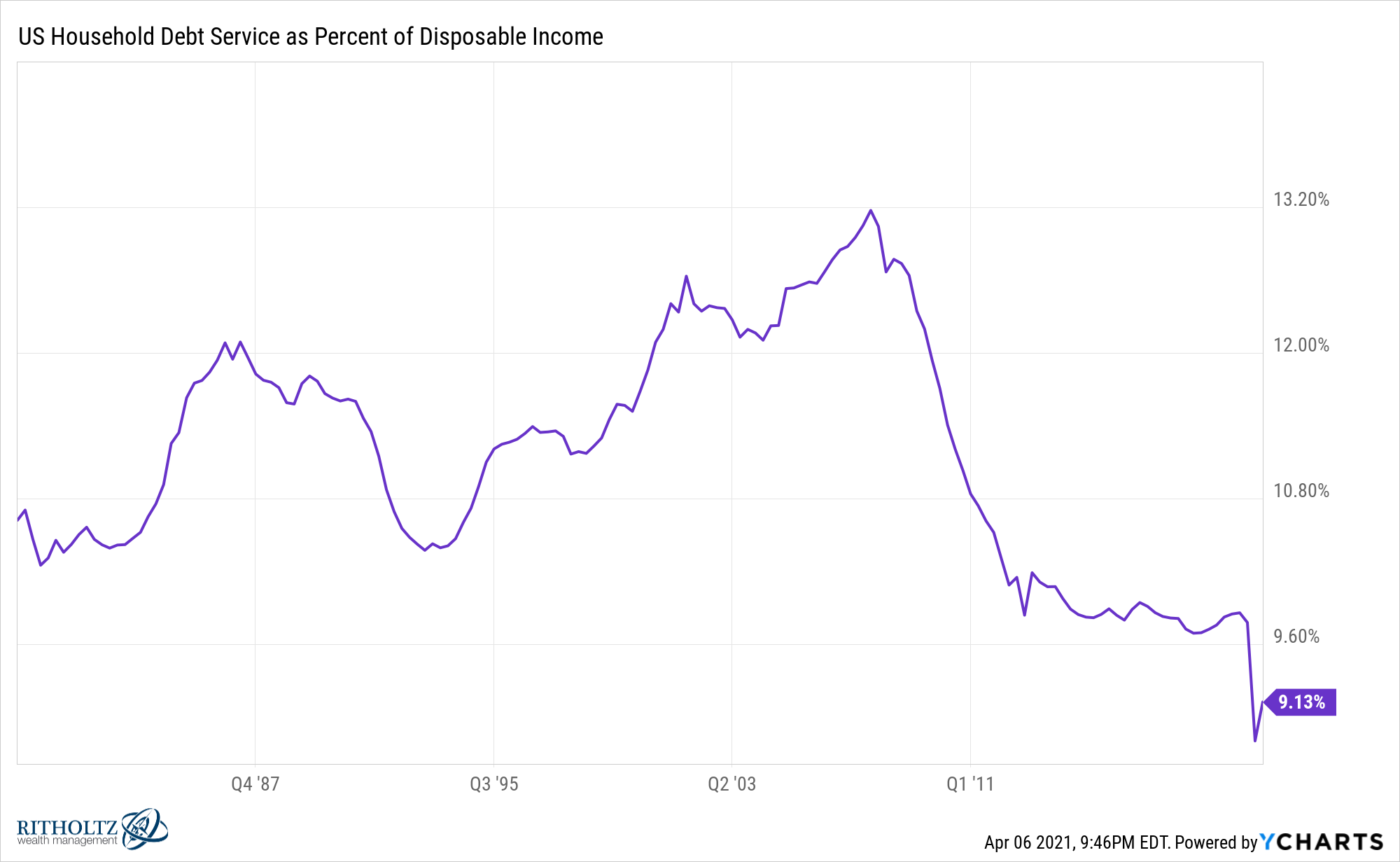 Now look at how much more equity people have in their homes: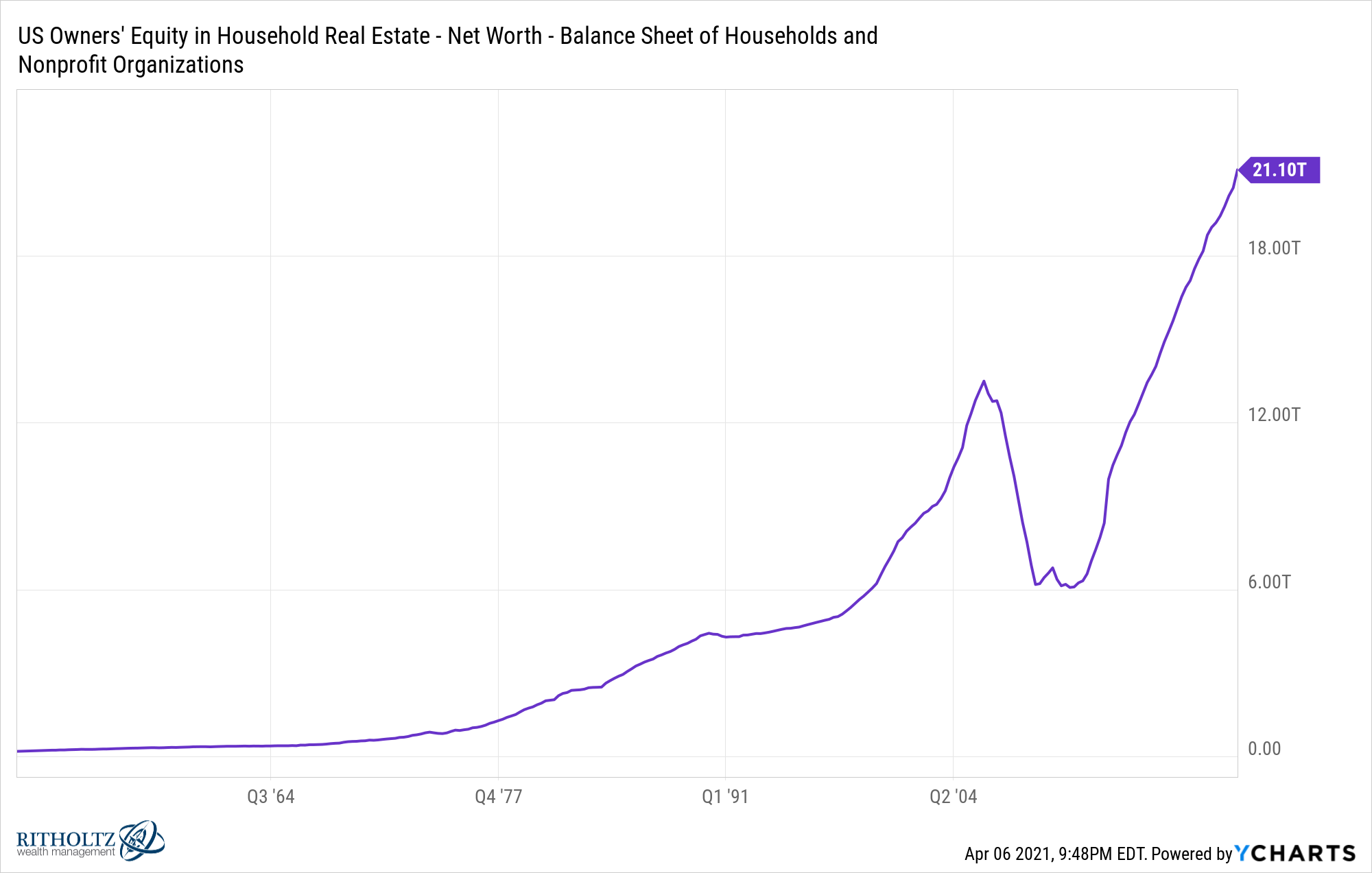 By the end of 2007 there was more than $10 trillion in home equity but more than $9 trillion in mortgage debt. Now there is more than $21 trillion in home equity and $10 trillion in mortgage debt.
During the last bubble people with terrible credit scores took on too much debt that they couldn't possibly hope to repay. That's not the case this time.
Look elsewhere if you want to call for a bubble. If you want to call a housing bubble somewhere, there are much better options in other countries: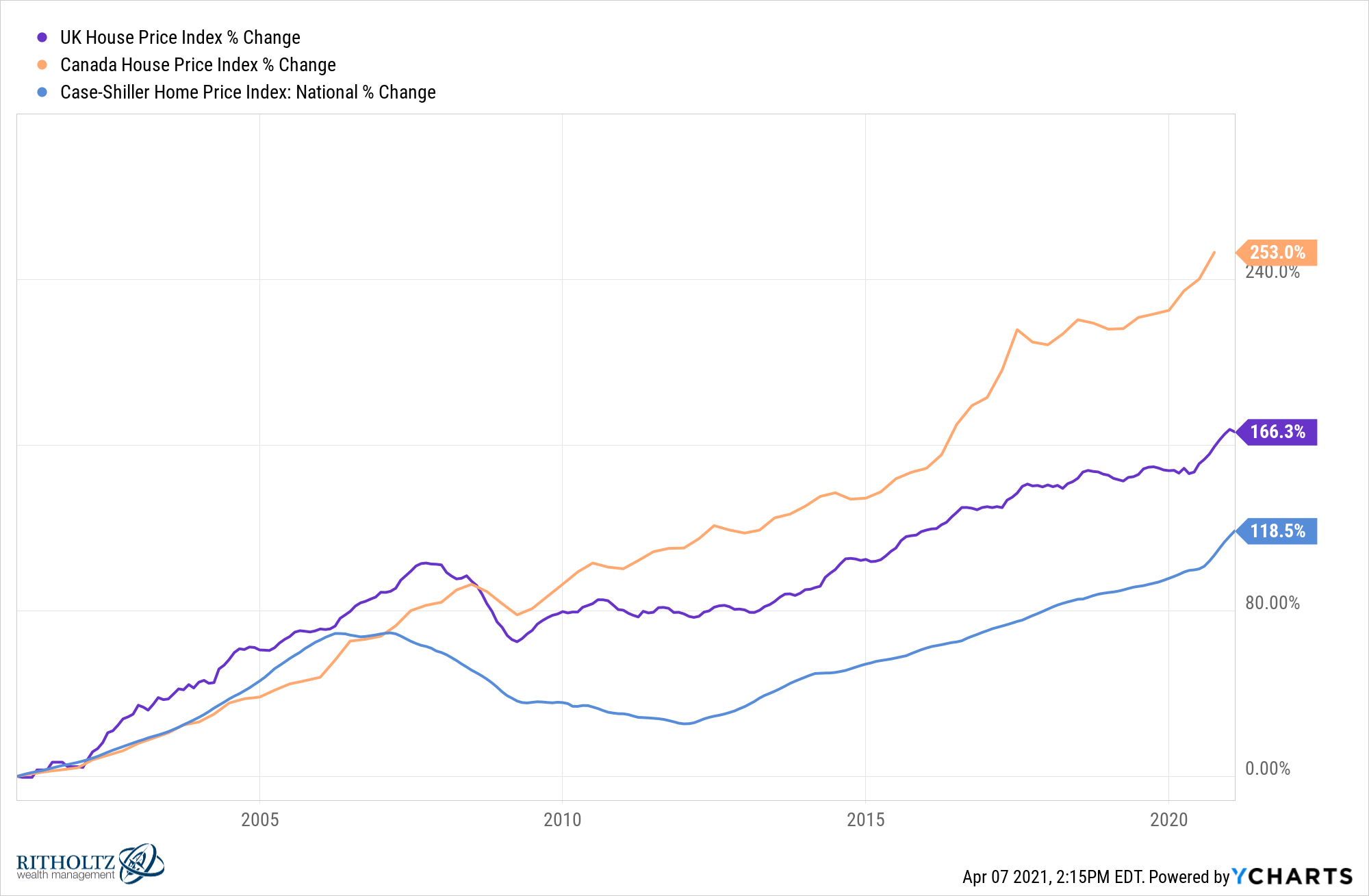 Prices in Canada and the UK have handily outpaced the United States this century.
I suppose you could make the claim that U.S. housing prices are in a bubble while prices elsewhere are in a mega-bubble but you would have more sympathy from me as a bubble-caller if you're talking about Toronto and Vancouver.1
Prices are rising for the right reason. Millennials are now the biggest demographic in this country. The oldest millennial is turning 40 this year (that's me). My generation put off buying a house much longer than our parent's generation because more of us went to college or the financial crisis or we just didn't want to grow up as fast.
Like all previous generations, millennials got older. They decided to settle down and buy a home even though it seemed like that would never happen following the Great Financial Crisis.
And a combination of the pandemic, remote work and low interest rates have all pushed even more people to start buying houses.
Just because prices are rising does not automatically make something a bubble.
Sometimes prices rise for good reasons. You may not like those reasons but that's not the same thing as a speculative mania.
Could this turn into a bubble?
Sure, never underestimate the American desire to take things to excess.
But it's not one right now.
Further Reading:
Why Housing Could Be One of the Best Performing Asset Classes of the 2020s
1And even then I'm not sure I'd be willing to stick my neck out to call these places bubbles. Do prices seem unsustainable? Yes. Could they remain unsustainable? Probably. The market dynamics in residential real estate are unlike any other market on the planet. Most of the time people buy because they want to own a house, not because they're tracking fundamentals.