"Solving problems using rationality is like playing golf with only one club." – Rory Sutherland
When my wife and I were looking to buy our first home we initially tried to do so without the use of a realtor.
We had done the research on school districts, neighborhoods and price points we wanted to look at. All of the houses were online so we could do virtual tours to figure out which places we wanted to see in person.
Unfortunately, when we began calling the selling agents there were a few that gave some pushback. They told us we should have our agent call them to set up a showing. When we told them we weren't using a realtor some didn't bother calling back. Another opened the door for us and was extremely rude when we asked questions. They assumed it was the buying agent's job to sell the home, which seemed like an odd turn of events.
So we finally picked the first nice realtor that showed us a house and she helped us cross the finish line. But it wasn't a great experience.
When we sold that home 10 or 11 years later, that process was even more stressful.
You have to fix things up, keep your house spotless and constantly put stuff away for scheduled showings. And when those showings occurred we had to pack up all of the kids and our dog while finding somewhere to go for a few hours as strangers walked through our home.
It was a huge pain in the ass and we sold our home in just 4 days. I can't imagine how painful the process must be when it takes weeks or months to find a buyer.
And simply finding a buyer doesn't mean the process is over. You have to agree upon a price, which rarely happens on day one. Then once you come to an agreement there's more back and forth following the inspection which typically means the haggling over the selling price.
The home-buying and home-selling process can be stressful, takes up a lot of your time and energy, and is not something I would like to go through very often.1
Despite the lack of efficiency in the space, housing remains one of the few enormous markets left almost completely untouched by technology.
I don't expect this to last.
In recent weeks noted tech investor Chamath Palihapitiya announced his special purpose acquisition company will buy tech start-up Opendoor. Here's Chamath explaining his thesis to CNBC:
So Opendoor will make an all-cash offer on your home within 24 hours and the entire process can be ironed out in just 3 days. For this convenience, it sounds like you sell for a discount of 6-7%, which is basically the same amount you would pay to the realtors on a normal sale.
I'm guessing that discount will come down over time once the company achieves scale and/or competition enters the market.
Zillow has a similar program called iBuyer so Opendoor is not the only game in town.
My initial take when hearing ideas like this is that it will never work. How could it? Nothing like this has ever really worked in the past. How we buy and sell homes is basically unchanged for decades and seems impervious to change.
Some stats from Chamath show why so many tech firms will likely try: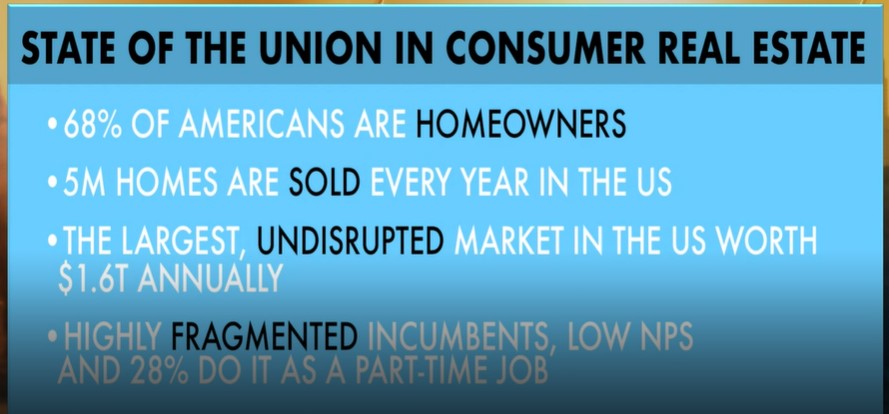 This is an enormous opportunity.
If these firms are able to lower their fees, handle your mortgage, closing, title, escrow, etc. and make the entire process worry-free and more efficient, it's going to work eventually. It might not be Opendoor or Zillow but someone is going to crack this nut.
Even if the economics of the business don't change all that much in terms of what home sellers end up paying in fees, if someone can make the process psychologically easier, they will certainly be able to find enough customers willing to pay for peace of mind.
Advertising extraordinaire Rory Sutherland discusses the idea of psychological moonshots in comparison to moonshot investments such as Elon Musk's hyperloop or highspeed trains. Sutherland notes, "Making a train journey 20 per cent faster might cost hundreds of millions, but making it 20 per cent more enjoyable may cost almost nothing."
He makes the point that one of the most intelligent design decisions Uber made was putting that little car on the map when you order up a driver on the app. It doesn't necessarily reduce the waiting time, but it's far less frustrating because you can see the car making progress in your direction and have an estimated time of arrival. The uncertainty of waiting for a cab is completely taken out of the equation which makes the process less stressful while you wait.
Sutherland thinks psychological moonshots could lead to extraordinary progress in the future at a fraction of the cost of actual infrastructure investments:
It seems likely that the biggest progress in the next 50 years may come not from improvements in technology but in psychology and design thinking. Put simply, it's easy to achieve massive improvements in perception at a fraction of the cost of equivalent improvements in reality. 
As these psychological moonshots pertain to the real estate business, it doesn't necessarily have to come from technology firms.
There will be enterprising realtors with a deep understanding of their clients and geography who innovate in this space. An influx of Silicon Valley companies will force their hand.
Reducing the frictions and stress involved in the home selling process is an area that's ripe for disruption. It may take some time but someone is going to figure this out and it's going to become an enormous success that will look obvious in hindsight.
Further Reading:
Terrible Business Plans, Wonderful Businesses
Two Big Trends I'm Thinking About For the Future
1The counter-argument here could be this is a good thing for certain people because it keeps them in their homes longer.