Legendary investor Howard Marks describes how pricing works in the markets as follows:
First-level thinking says, "It's a good company; let's buy the stock." Second-level thinking says, "It's a good company, but everyone thinks it's a great company, and it's not. So the stock's overrated and overpriced; let's sell."
The idea here is what matters most in the markets is not necessarily what is happening (absolute fundamentals) but what perception and expectations are baked into the price (relative fundamentals).
Life and happiness work much in the same way. Your level of happiness has more to do with your current level of expectations about your life, not necessarily your station in life. True happiness requires second-level thinking.
I'm fast approaching my 40s and it appears I may need to figure out how this whole second-level thinking thing goes to avoid the dreaded mid-life crisis.
Research on happiness in basically every major country around the globe shows the average person experiences something of a happiness smile as they age: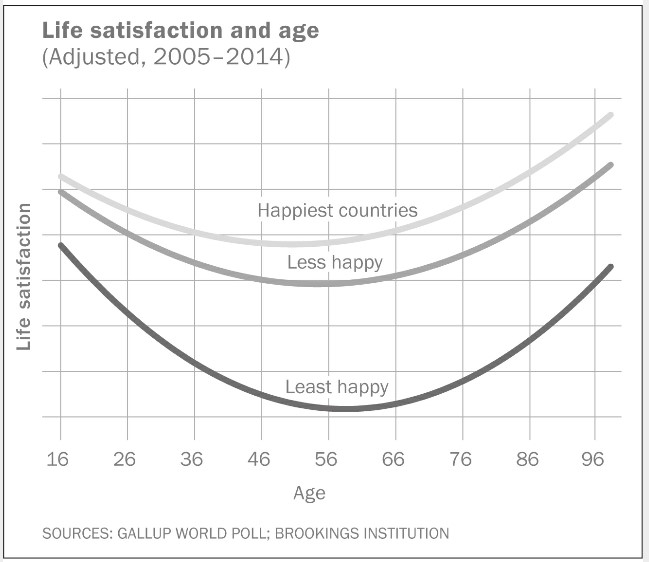 The data shows people are generally happy early on in their lives. And why wouldn't they be? The world is your oyster when you're young. But as we approach middle age, people generally become dissatisfied with their lives.
This isn't the case for everyone but it does appear to fit the mold for most people. The biggest reason for this is a mismatch between expectations and reality: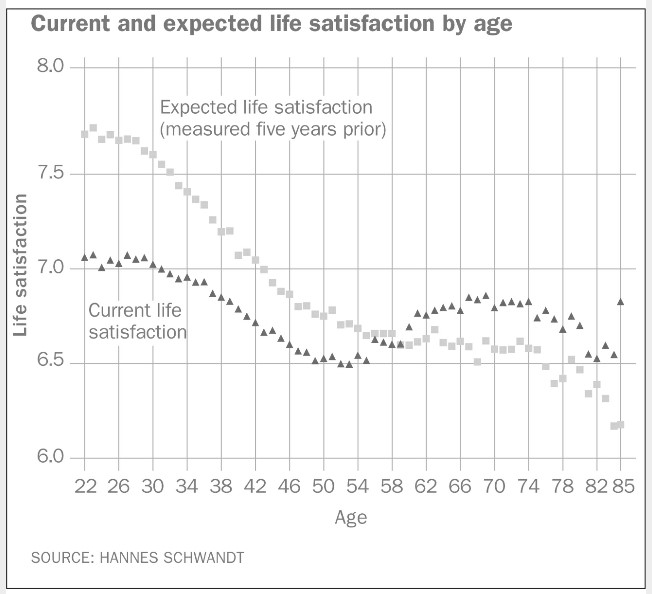 This expectations gap stems from the fact that our expectations of life satisfaction when we're younger are completely out of whack with how life actually goes when we're older. As you move along the expectations curve you can see things converge and then swap places.
During our 40s we come to the realization we can't all be astronauts, CEOs, senators or influencers. And even if you are successful, it becomes easier to adjust your expectations to those who are doing even better than you, since there will always be others earning more money, buying bigger houses, accomplishing more, or receiving more accolades.
This brings regret about the past but also disappointment about what the future holds as the expectations you have for yourself when you were young slowly erode. Getting over the mid-life expectations hump helps right-size future expectations, which eventually leads to increased happiness in old age.
On last week's podcast I gave a quick book review of The Happiness Curve: Why Life Gets Better After 50 by Jonathan Rauch, which thoroughly covers the research on this topic:


Here's my plan to avoid a midlife crisis:
Control my reactions to certain situations. Rauch talked about how his father saw a change in attitude as he aged, going from someone filled with rage to a calmer person. When asked what changed, his father replied, "With age, we give fewer five-dollar reactions to nickel provocations."
This is a good goal in life as many of us (hand up) overreact too often to things that are of little importance in the grand scheme of things.
Go into most things with zero expectations. My hope is this blog was something like my one-third life crisis since I started it in my early-30s. At the time I had a good job but knew I wanted to do something different with my career because it wasn't the right fit for me personally or professionally. I felt trapped.
So I started writing for the first time in my life to see what would happen. But I went into it with no expectations of what I would get out of it.
Had I placed undue expectations on myself I probably would have given up earlier when nothing happened for the first 6-9 months of writing. But I stuck with it because I found the writing process cathartic. Lower expectations shouldn't be confused with a lack of effort, but it does mean you do your best without worrying about what the outcomes will be.
Placing less pressure on yourself is a good way to avoid an unnecessarily stressful life.
Be grateful more often. Low expectations for what you don't have combined with a higher appreciation for the things you do have is a good recipe for contentment. Studies have shown gratitude increases optimism, happiness and even physical well-being.
Being grateful for what you have can be tough because we live in a relative world. The Internet and social media make it easier than ever to compare your current standing in life to millions of people who are doing better than you. That's why it's important to compare down not up. Everyone wants a better life but it could always be worse.
There is a fine line between being content and staying motivated to get better but people who can exist in both of those camps will have an easier time in life.
Never buy a convertible or wear a fedora. Just to be safe.
Continue to lead a healthy lifestyle. Rauch writes, "aging changes who we are, and what we perceive, in ways that make us happier—even when our bodies betray us." Even knowing this to be true, I'm still terrified of my body breaking down.
Working out is basically my self-medicated form of therapy so I will do so until my body no longer cooperates.
Pay more attention to others, less to myself. One of the underrated aspects of having kids most people don't tell you about beforehand is they force you to spend less time worrying about yourself because so much of your time and energy are spent ensuring they will be okay.
For me, this was a huge relief because you don't have time anymore to sit around and worry about the little things that don't matter much anyway. This has made me realize I'll need to continue this process of helping others more often as my kids get older and don't need to lean on me as much.
Further Reading:
The Problem With the Relentless Pursuit of Happiness