This is not an exhaustive list by any means, but here are three important aspects of money management that really matter during a stock market sell-off:
1. Risk Management. Risk management is just lip service until we actually experience some risk in the markets. It's a process that always matters, but these are the times where you get to see it play out in real time to know if it works as advertised. Some people speak to risk management without having an actual plan in place. The majority of risk management occurs in the planning stages of a portfolio.  It's also when you figure out whether or not you have the ability to see a plan through periods of market turbulence. Backtests are easy to perform on a spreadsheet and they always look relatively easy to handle. But you can never run a simulation of what it's like in real time to force yourself to manage risk or continue to follow a set of agreed upon guidelines.
Risk means different things to different investors so there's never an easy answer for how every single person or fund should proceed when prices fall. There's no single solution as there are typically a number of different strategies and aspects to a good plan. Your personal system of choice should take into account how you handle periods of market adversity and what sort of short-term liquidity needs you may have.
2. High Quality Bonds Still Have a Place in a Diversified Portfolio. One of the more surprising things I've noticed over the past couple of years is that many investors who I've come into contact with have been much more worried about bonds than stocks. The threat of rising rates and interest rate risk has many investors extremely worried about losses in their bonds.  While I think it's reasonable to lower your expectations for bond market returns and allow for higher volatility because of the level of rates, it seems to me that many of the fears about fixed income are overblown.
Investors just have to make sure they define their reasons for investing in bonds in the first place. High quality bonds can still be used for principal protection and a hedge against stock market risk. See the year to date returns of a handful of bond ETFs versus the different stock market indices (through last Friday):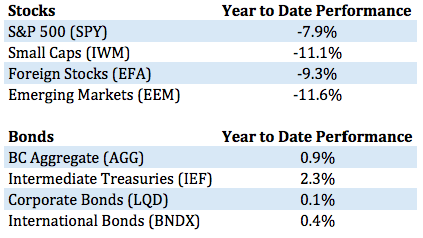 This doesn't mean bonds will never lose money in the future, but they've done their job in a difficult market environment like they are supposed to.
3. Your Sources of Financial Advice. The majority of the people taking victory laps for "calling" the market correction would have had you out of the market for the past 50-100% or so of gains (and they'll never get you back in). Charlatans aren't offering advice, they're fear-mongering to draw attention to themselves. Do your best to ignore these attention-seekers and focus on utilizing sources of advice that seek to provide context and perspective.
Now is the time when you find out if expectations been set properly. You figure out if your advisor has constructed a comprehensive financial and investment plan to see you through some losses. This is when you realize if they've helped balance out your willingness, ability and need to take risk in your portfolio. The financial advice-giving business really comes down to trust. You have to be able to trust that the person helping you with your life savings is providing actual advice, behavioral counseling and managing your personal risk accordingly.
My general rule of thumb is to ignore anyone who offers up constant excuses or 100% certainty. Remember, no one really knows how things will turn out, but it will feel better to latch onto the narrative of someone who would have you believe that they have all the answers. Most of the time the best sources of financial advice — especially during market sell-offs — are not the ones who claim to have all the answers. It's the ones who know how to ask the right questions.
Further Reading:
3 Misconceptions About Risk Management