Here's a recent headline from Investment News:

Now here's an alternative headline and byline:
DOL fiduciary rule could add $2.4 billion to retirees' pockets
Implementing the standard on retirement accounts could help investors lower their costs by more than twice the current estimates, according to new research
It's all about how you look at it. Morningstar estimates that the rule could affect around $3 trillion of client assets and $19 billion of revenue at full-service wealth management firms. Here's more on this research from Investment News:
The DOL's proposed conflict-of-interest rule "could drastically alter the profits and business models of investment product manufacturers like BlackRock and wealth management firms like Morgan Stanley that serve retirement accounts," according to Stephen Ellis, director of financial service equity research at Morningstar Inc. "Current government and financial industry reports have a high-end annual cost of $1.1 billion," but the low-end impact could be more than double that at $2.4 billion, Mr. Ellis wrote in a research note issued yesterday.
The $2.4 billion number is Morningstar's low-end estimate of prohibited mutual fund front-end load commissions and mutual fund 12b-1 fees paid to full-service wealth management firms for commission-based IRAs. It is a revenue number, according to Morningstar. Some industry groups have interpreted the lost revenue to financial advisory firms as a cost of the proposed regulation.
Front-end loads and 12b-1 fees fall in the I-can't-believe-these-still-exist category. Again, this is a huge positive for financial consumers. They will no longer have to pay these worthless, excessive fees.
The fiduciary standard legally obligates those offering financial advice to act for the sole benefit of the client. It's amazing to me that this rule has to be legislated in the first place, but the finance industry has a history of putting their own profit motives ahead of their client's best interests.
The problem is that many clients don't know that there isn't a fiduciary rule already in place. Studies show that 87% of people who speak with someone affiliated with their workplace retirement plan believe that person is obligated to give advice in their best interests. Also, 67% of people believe anyone who calls themselves a 'financial advisor' is obligated to give advice in their best interests. And 67% of people believe that insurance agents are obligated to do the same.
In some ways the markets could already be taking the potential affects of the fiduciary standard into account as you can see from the performance of many publicly-traded financial firms in 2015: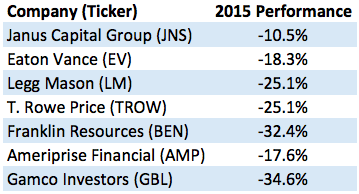 The initial beneficiaries to this rule change will likely be places like Vanguard, Charles Schwab, Betterment, Wealthfront and other low cost fund providers. There are always winners and losers with this type of rule change, but it's not like the incumbents will just sit on their hands and take the losses without a fight.
They will have to adapt. I'm sure many will buy or create their own robo-advisor products. ETF product offerings will continue to grow. And some firms will find other ways to charge clients different fees to make up for the lost revenue. Wall Street is very good at adapting their business models to the changing environment, even if many of these firms get knocked down a peg or two from their current standing.
Nothing is set in stone with these regulations just yet, but it's becoming apparent that something is going to have to happen. Implementing this rule alone isn't going to change the financial industry forever all on it's own, but I see no downside for financial consumers about the fact that those offering advice will be legally obligated to provide advice that acts in the client's best interests.
Source:
DOL fiduciary rule could take $2.4 billion bite out of financial industry (IN)
Further Reading:
Do I Have a Financial Advisor?
*Thanks to one of my anonymous readers for sending along this article for the idea on this post.