As they are wont to do on occasion, the markets are in the mist of a decent sell-off. The last 6 months or so have not been kind to the global markets. The S&P 500 is holding up surprisingly well in the face of much deeper losses in small caps, foreign stocks and emerging markets: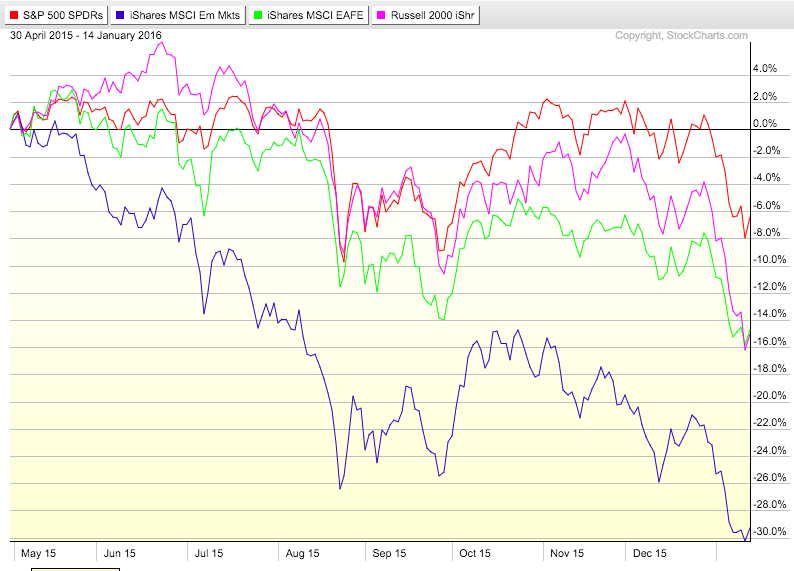 Now is a good time to remember that it's not necessarily volatility that makes investors nervous; it's losing money. No one really complains about upside volatility. Because of the recent losses a number of people have asked me over the past few days some variation of, "What's going on with the stock market? Is the next move higher or lower from here?"
Investors are always worried about whether it's time to be bullish or bearish. At times like this it's much more effective to be humble in your approach. Last weekend the New York Times summed up the 2016 outlook piece from the excellent team over at Bespoke Investment Group (highlights are mine):
Not everyone has come up with a year-end target for the index, however. Among the reports on the future path of the market, one was perhaps the most useful and certainly honest. Bespoke Investment Group published it. Its three authors, Paul Hickey, Justin Walters and George Pearkes, began their 2016 forecast with this disarming statement: "We have no idea."
This candid disclosure ensured that the authors will not have to eat their words. They acknowledged that their lack of specificity might be unsettling: "That's probably the last thing you wanted to hear from us regarding our views towards the next year in the stock market. In all honesty, though, to try and look out one year from now and tell people what the market will or will not do is a fool's errand."
Yet they had plenty of interesting and skeptical things to say in the 161-page report. They explained why it is possible that the market will soar and finish 2016 with a double-digit gain — and why it is also quite possible that the long bull market is coming to an end this year. There is no certainty about either outcome, of course.
Very few firms or individuals on the sell side would admit to this line of thinking to the public or their clients. There are plenty of big egos involved in the financial markets. It takes self-awareness to be able to admit that you don't really know what's going to happen in the next 12 months. Even though they know better, many investors just can't or won't admit this to themselves. Others blindly assume that their favorite overconfident pundit really does know what's going to happen.
In a recent interview with a European business publication, legendary investor Howard Marks shared similar sentiments when discussing the current environment:
This is one of the factors that contributes to making the world a risky place today. In the United States, we had seven years of super low interest rates to try to stimulate. That has never happened before. What are the long term effects on the economy? What's the effect on lending behavior? And, how will that go now that the Fed has started to raise rates? What will that do to the world? The answer is very simple: We don't know. And anybody who thinks he knows is kidding himself.
The only thing that seems obvious to me is that those who are certain of the outcomes from all of this are bound to be wrong.
There are times when it pays to be bullish. And there are times where it pays to be bearish. But there are also those times where it makes sense to be humble in your market views and admit that we're in a difficult environment. There's never been certainty in the markets, but today we're at a point in the cycle where I would be long humility, in size.
Sources:
One Market Prediction Is Sure: Wall Street Will Be Wrong (NY Times)
The Risks Today Are Substantial (FUW)
Further Reading:
Common Sense Thoughts on Stock Market Losses
Now here's what I've been reading this week: