There was a scary chart flying around a couple months ago showing how basically no asset class was working for investors. These numbers, provided by James Picerno at The Capital Speculator, showed that every major asset class or category showed a negative one year return through early September: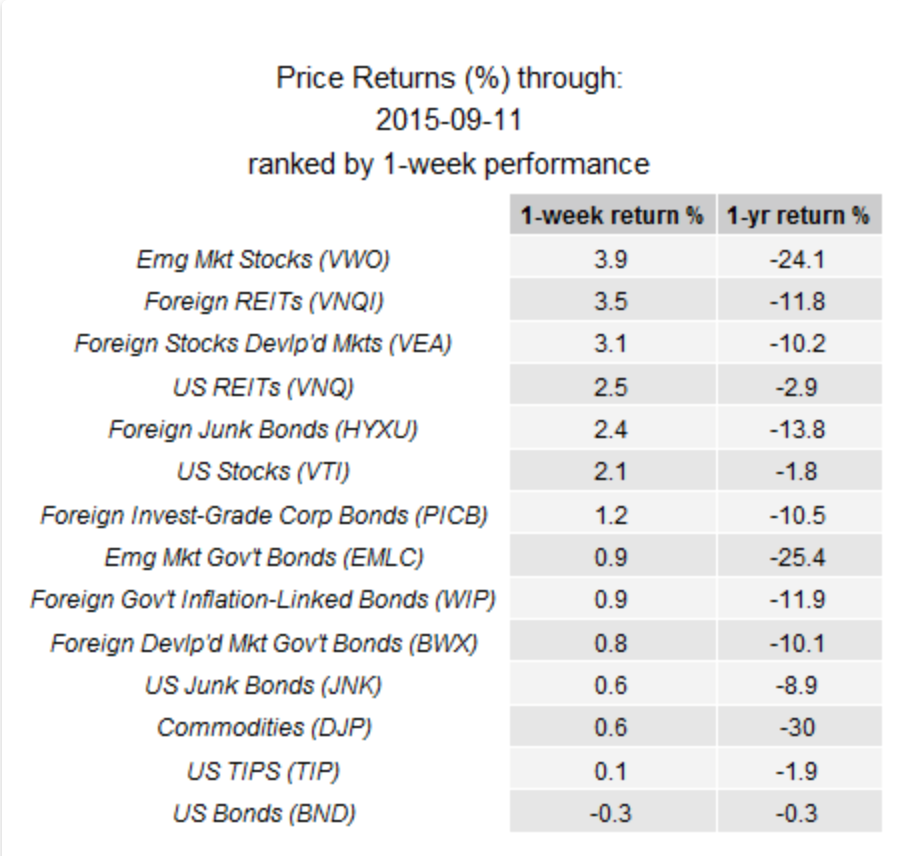 This was pretty crazy — stocks, bonds real estate, commodities, foreign, domestic, it didn't matter. Everything was negative. The knee-jerk reaction by many to when seeing these types of numbers is to call into question everything we thought we knew about financial markets.
Diversification? Worthless.
Cash? Why don't I hold more of it?
Rebalancing? What's the point if everything is down?
There's nowhere to hide; this market is broken.
The problem with this line of thinking is that one-year returns in the markets are pretty meaningless. They provide very little signal and plenty of noise. Take a look at what happens when you update these same ETFs for their one-year performance through the end of this past week: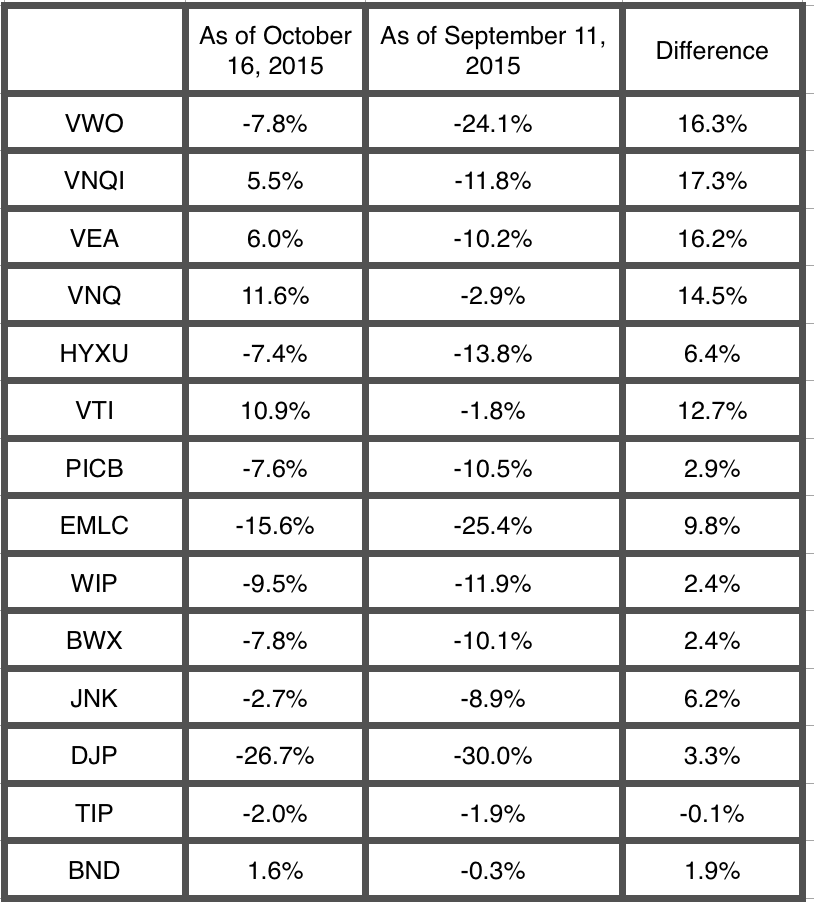 There are still some negative returns on here, but the performance across the board is much better. There are even some fairly decent one-year returns in a handful of markets. There are a number of reasons for these changes. Markets have rallied over the past couple of weeks. It's possible that there was a poor performing month or so that dropped off from the calculation of the previous period.
The point here isn't to say, "Look, everything came back like it always does!" The point is that the markets are constantly shifting over shorter time frames. One year numbers could look great one month and terrible the next, depending on what happened before and what happens next. You just never know.
The point is that judging the performance of your securities, funds or entire portfolio over a one-year time horizon doesn't tell you very much about your success or failure as an investor (assuming you don't completely blow-up your portfolio). There will be good years and bad years. Sometimes everything works. Sometimes nothing works. Other times there will be a wide dispersion in returns depending on the asset class, style, strategy or geography.
Many investors are worried this year because markets haven't really gone anywhere or provided much in the way of returns. There are still a couple months remaining before year-end, so you never know what will happen.
However, level-headed investors understand that their one-year returns don't really matter in the grand scheme of things. As William Bernstein once said, "Investment wisdom begins with the realization that long-term returns are the only ones that matter."
Further Reading:
The Danger of One Year Performance Numbers