In nearly every heist movie from the 80s and 90s, the bad guys would always talk about stealing enough money to find a place on the beach and live off the interest. Here's a classic from Hans Gruber in Die Hard (h/t Meb Faber):
"Sitting on a beach, earning 20%" isn't going to happen these days (Die Hard was filmed in the late-1980s), given the paltry yields in government bonds around the globe: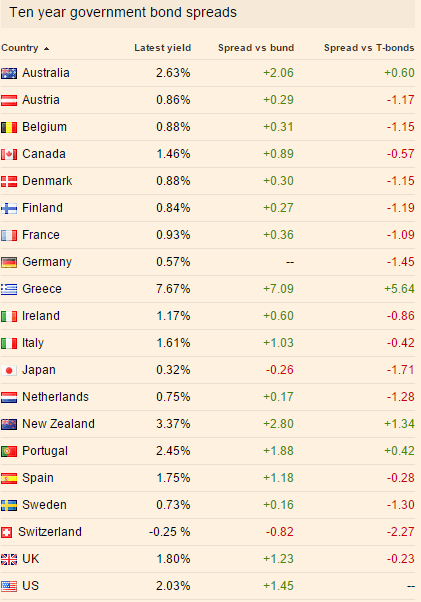 But there are still investors out there who have 'won the game' and retired with a large enough nest egg that they don't see the need to invest outside of bonds. Many are still too shell-shocked from the Great Recession or think stocks are overvalued and want nothing to do with the stock market. I've talked to a few people over the past couple of years who say they keep all of their money in bonds because they provide more safety than stocks.
In some respects, I understand this line of thinking. Why continue to play the game when you've already won and have built a substantial portfolio? The transition from wealth accumulation to wealth preservation requires a change in mindset, but as with most things can be taken too far.
Let's take a look at some historical returns to see why adding even a small allocation to stocks makes sense if you have a bond-heavy portfolio. These are the performance and volatility numbers for various stock and bond portfolio mixes going back to the late-1950s: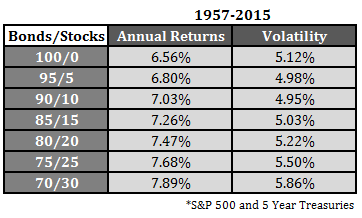 Ignore the absolute return numbers — bonds aren't delivering 6.5% returns from here — and focus instead on the relative stats. A portfolio that's made up of 100% bonds has roughly the same volatility as one that contains 20% in stocks, but the mix with 20% in stocks has annual returns that were almost 1% higher. Even going out to 30% in stocks doesn't change the volatility profile that much.
And since I'm not a huge fan of using volatility as a primary risk metric, here are the worst total returns for these same allocations on a one, three and five year basis: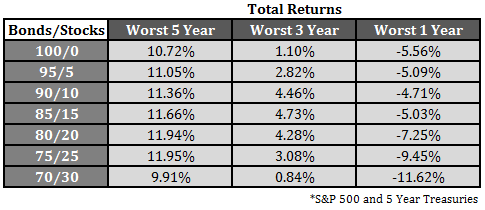 Adding even a small amount of stocks to the mix actually improves the results during the worst case scenarios as stocks picked up the slack during periods of low returns in fixed income. Through the power of diversification and rebalancing (semi-annually in this example), a portfolio that many would consider higher risk from the additional equity exposure offers much better risk-adjusted returns on both volatility and losses, in most cases.
Again, investors can't expect to earn these same kinds of returns in fixed income from current interest rate levels. But even if you are extremely risk-averse, adding even a small allocation to equities can actually improve your results without adding too much risk to your portfolio. And by ignoring the positive effects of diversification, you could actually be taking on more risk than you understand by investing in a single asset class.
Further Reading:
What's the Worst 10 Year Return From a 50/50 Stock/Bond Portfolio?