Just when I think things are slowly turning in favor of the financial consumer, I'm reminded of Wall Street's old ways of doing things like putting fees, profits and margins ahead of client interests. There were three things I saw this week that showed Wall Street's old guard isn't going to go down without a fight for every last basis point of their investor's money that they can get their hands on.
1. Morgan Stanley's margins. On CNBC this week, bank analyst Mike Mayo said that Morgan Stanley is one of his top bank stock picks right now. One of the reasons he stated for this pick is because the CEO wrote in his latest letter to shareholders that one of the biggest goals of the firm this year is to get the margin in the wealth management division higher than it's ever been in history. Translation: More for us, less for you.
Contrast Morgan Stanley's strategy of margin expansion with Vanguard's bonus system:
One example from Vanguard: The company has a partnership plan that calculates bonuses for employees based on how much less Vanguard's expense ratio is than its competitors' and how much its funds outperform. During Bogle's tenure as CEO, annual bonuses could amount to as much as 30 percent of an employees' pay.
Which firm would you rather partner with as an investor?
2. A ridiculously priced index fund. This one comes from my friend Wes Gray at Alpha Architect: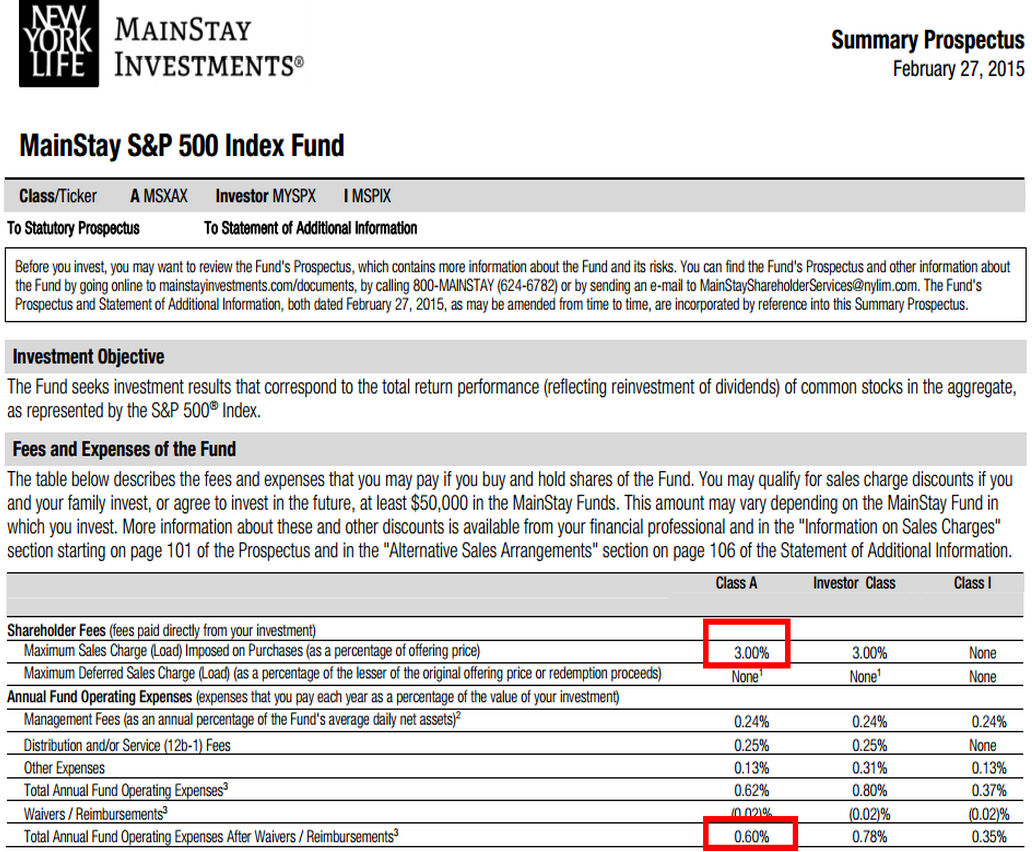 This S&P 500 Index Fund from insurer New York Life carries a 3% sales load. Even if you were able to skirt that egregious fee, you'd still pay 0.60% for the expense ratio, including a useless 12b-1 fee that should be outlawed. For comparison purposes, investors can buy the SPY ETF for 0.09% or the Vanguard 500 Index Fund for just 0.05% in the Admiral share class. These funds are all set up to do the exact same thing – track the S&P 500 index. The only difference is the fees. Supposedly most of the funds are in the Class I fund, but that doesn't excuse the pointless fees that are sure to nail unsuspecting investors who don't know any better.
3. The Vampire Squid strikes again. Courtesy of the New York Times, the mutual fund offerings from the big banks are of the high-fee, low outperformance variety: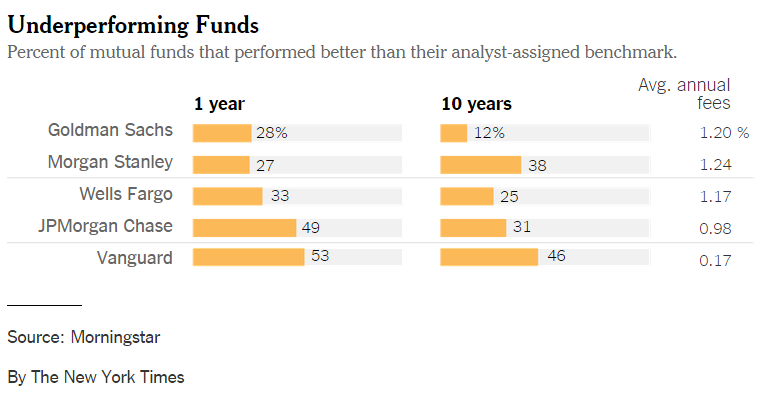 No worries. Goldman Sachs is doing just fine as they brought in $73 billion from new investors last year and continue to roll out new fund offerings at an impressive clip:
When Goldman's chief financial officer, Harvey M. Schwartz, spoke about Goldman's "strategic initiative to grow asset management" on his most recent call with investors, he said that the "team's done a great job."
For Goldman's bottom line, the business has indeed been doing well. During 2014, the company's funds drew $73 billion of new money from investors, increasing revenues in the investment management division by 11 percent over the previous year. Goldman has nearly doubled the number of mutual funds it has offered over the last decade.
Nice job team.
All fees and firms on Wall Street are not evil as some people assume. This has more to do with trust and honesty than fees. I just don't see a scenario where these types of firms will ever truly care about their clients and investors. It looks to me like they've decided they're going to wring out every last drop of fees that they can before their clients wise up. Of course, most clients won't wise up to this game. Some people like investing with a firm because of the name on the side of the building, the size of the research team or the narrative of the marketing department.
But I think many people really have no clue what they're getting themselves into when the invest with one of the behemoth financial firms. It's very easy for financial professionals to talk over the heads of their clients and wear them down with the trust-me-I-got-this line. Prestige and a knowledgeable sales staff is still a formidable combination when it comes to gathering assets.
Things are improving for investors, but there are still financial firms that would rather keep the status quo.
Sources:
The Impossible Sale: An S&P 500 Index Fund at 60 bps with a 3% Sales Load (Alpha Architect)
Wall Street Banks' Mutual Funds Can Lag Returns (New York Times)
Jack Bogle's Success Principles to Live By (CNBC)
Further Reading:
What Would You Say…You Do Here
It's Not a Chase For Yield, It's a Chase For Fees
Subscribe to receive email updates and my monthly newsletter by clicking here.
Follow me on Twitter: @awealthofcs