The New York Magazine profiled popular blogger Mr. Money Mustache, who is very well known for his frugal ways and the fact that his extremely high savings rate allowed him to retire at the tender age of 30.
The piece went through his history and talked about others he has inspired to live a similar lifestyle that cuts down on over-spending and pushes for 70-80% savings rates to be able to retire young and do whatever you want after that. The extreme saving lifestyle isn't for everyone, but I find it to be a fascinating case study in setting priorities in life. Then for some strange reason at the end of this write-up there was this unnecessary caveat:
But Keynes's famous paradox of thrift still holds: Six years after the crash, the American economy could use more consumer spending, especially among those who can afford it. Growth has picked up this year in part because Americans have started to open their wallets, and retailers anticipate a frenzied holiday season. Were we to suddenly start living like Mr. Money Mustache suggests, the implications for the economy would be dire; were we to start spending like we did in the 1990s, things would feel great. Mustachism may save us from our worst excesses, but saving, ultimately, isn't the only point. A better economy requires more income growth, not just more personal thrift.
While I agree with the fact that most people should be looking for ways to increase their income to improve their finances, I think it's rather ridiculous to make personal finance decisions based on how they could potentially affect the overall economy. The U.S. economy is a roughly $17 trillion behemoth. What are the odds that every single person in the U.S. is all of the sudden going to decide that they should substantially increase the amount they save? Take a look at the personal savings rate over time: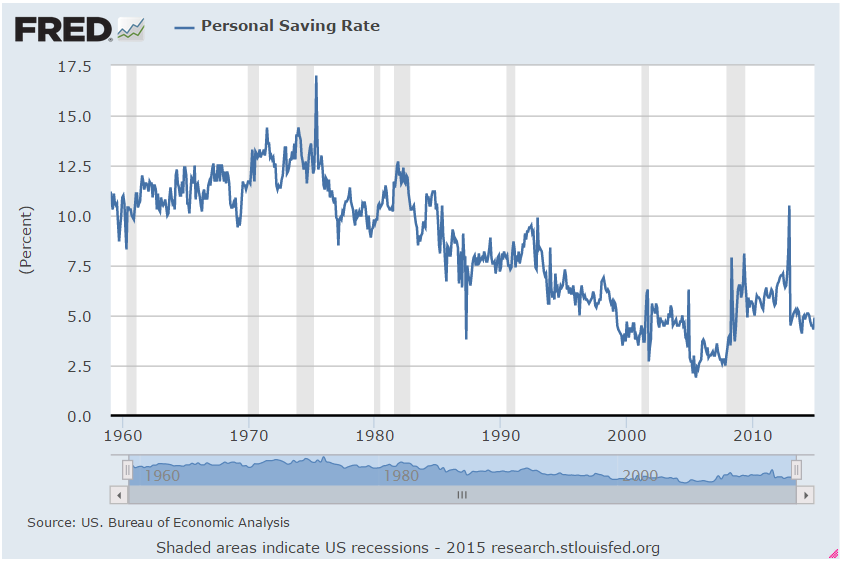 Thinking this way just gives people an excuse to put off saving money. Well if everyone saves more money all at once the economy will crash. We live in a consumption-based society. There's no way this would ever happen. One person's decisions aren't going to crater or jump-start the economy. It's a drop in the ocean. And remember that cutting back on current consumption is simply delaying your inevitable spending for later.
A similar argument is often made about index investing. What happens to price discovery and the efficiency of the markets when every investor turns passive and indexes? Again, this is something that's never going to happen even as index funds continue to gain ground in market share. There is far too much institutional capital that invests actively and the gambling instincts inherent in most people are never going away because it's human nature.
Living in a relative world when it comes to your finances rarely turns out well. A Bankrate study found that most people don't necessarily equate a higher income level with increased levels of happiness. People's level of happiness is determined by how much they have financially compared to those around them. So people are more concerned with their wealth on a relative basis rather than an absolute basis based strictly on their own situation. This is the keeping up with the Joneses syndrome.
When making financial decisions it's best to focus on your own personal circumstances. Don't worry about how your savings rate could derail the economy, how your investing style could affect market dynamics or how your neighbors are spending their money. Thinking in relative terms is a destructive line of thinking when it comes to your finances.
Source:
Meet Mr. Money Mustache, the Personal-Finance Blogger Who Wants You to Spend Like You're Poor (NY Mag)
Further Reading:
Putting Passive Inflows Into Context
When Saving Trumps Investing