"This [value investing] is a pretty good thing to have as part of your portfolio but it does not always work, cause nothing does." – Cliff Asness

In his recent speech at the Morningstar Conference, Cliff Asness of AQR Capital Management shared his thoughts on the two main reasons that value investing works:
(1) Cheap stocks are often overlooked because investors prefer the glamour growth stocks. This is the behavioral argument that says investors prefer a company with a narrative about the future as opposed to one that's undervalued or beaten down in price.
(2) Value stocks compensate you for higher levels of risk because the companies can become distressed.  This is more of an efficient market argument that says higher expected risk should lead to higher expected returns.
You can argue a case for either reason but Asness concluded that it's probably a little bit of each.  At the end of the day, buying cheap stocks has worked out very well over longer time frames..
Dimensional Fund Advisors (DFA) was using factor investing techniques before the cool kids started calling it smart beta. Based on the research of Eugene Fama and Ken French, who Asness actually studied under for his PhD at the University of Chicago, DFA has been tilting towards value and small cap stocks for a number of years now.
Basically, DFA uses a quantitative value investing framework to buy cheap stocks (based on low price to book ratios) and avoid the expensive names.  And their strategies have performed very well:

But those higher returns can come at a price.  Asness actually shared that when he started AQR in 1997 the spread between buying the cheap names and selling the expensive names led to a 60% loss over the next 4 years.  So value investing works, but not all the time.
This is the higher level of distress risk that Asness alluded to which you can see from the most recent financial crisis: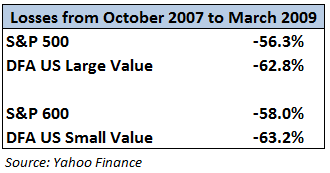 To earn the higher long-term performance numbers will mean dealing with periodic bouts of underperformance.  Remember, there's no free lunch in the markets.
Gaining access to DFA funds is a little different than the average mutual fund.  You can only invest in DFA funds through qualified fee-only financial advisors (or if they happen to be included in your workplace retirement plan).
One of the biggest problems with outperforming strategies is that investor behavior can completely trump those excess gains from buying and selling at the wrong times.  So let's see if DFA's qualified advisors have helped their investors decrease the behavior gap.
Here are the performance returns that the investor's have earned and the actual fund returns along with the behavioral difference for the DFA Large Cap Value Fund:

The 5 and 15 year behavior gaps are really good while the 10 year is probably affected by the 2008 crash when many investors misbehaved.
Carlson's common sense rule of investor behavior states that as the expected returns and volatility of an investment increase, so too does the bad behavior.  You can see this play out in the DFA Small Cap Value Fund:

Unfortunately, nearly 2% of the 10 and 15 year returns have been eaten away by bad investor, or in this case, financial advisor behavior.  Investment professionals have more experience, but that doesn't mean they're immune to the ups and downs of the markets.
Risky investments tend to lead to risky behavior.
Value investing is counterintuitive, can lead to large losses and comes with long periods of underperformance.  That means the value premium isn't going away anytime soon.  There probably aren't enough steady hands with the required patience to see value strategies through these cycles.
For these reasons a tilt to value strategies as part of any overall diversified portfolio is probably a much safer, less stressful way to implement within your investment plan than trying to hold on for dear life by investing strictly in the value factor.
Either way, the process of buying some of your relative underperformers while selling some of your relative outperformers is the most basic form of long-term investing.
For more on DFA check out this piece by Michael Lewis on their process and philosophy: The Evolution of an Investor (Upstart Business Journal)
Further reading:
Why aren't there more value funds
And here's the best of what I've been reading lately: