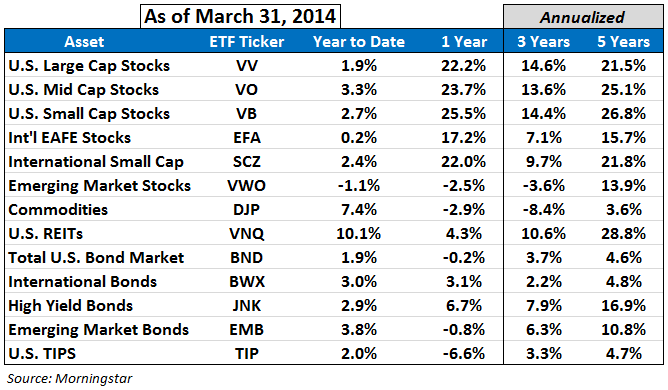 Thoughts on the 1st quarter performance numbers:
Many of the worst performers from 2013 had very solid returns in the first three months of the year, proving the worth of diversification yet again.  Bonds, REITs and commodities all had nice comeback numbers.
Emerging market stocks continued to lag the developed markets, but that loss is mostly from January as EM stocks were up over 8% between February and March.  It will be interesting to see if this is a short-term aberration or a sign of things to come for the remainder of the year.
Small and mid cap stocks continue to lead the overall market higher as they once again outperformed the large cap space.  Seeing small cap, mid cap and junk bonds outperforming large cap stocks means riskier sectors are still being given the benefit of the doubt.
Nothing really got crushed which is nice.
Your 5 year portfolio performance numbers should look pretty spectacular if you had any money in stocks over that stretch.  Not so much if you loaded up on commodities.
[widgets_on_pages]
Follow me on Twitter: @awealthofcs