"A house is certainly not an investment, for one simple reason: You have to live somewhere, and you are either going to have to pay for it or rent it. Always remember, investment is the deferral of present consumption for future consumption, and it anything qualifies as present consumption, it is a residence." – William Bernstein
According to one study, 90% of people think home ownership is the best path to living the American dream.  Also a recent Gallup poll that's been flying around the blogosphere showed that Americans think that real estate is their best long-term investment option, with gold and stocks tied for second place.
There is a huge disconnect between the way people view housing when it comes to building wealth and the reality of real estate as an investment. You can build wealth by buying a house, but there are a number of problems with viewing your home as your best long-term investment option.
Here are a few common arguments I've heard over the years when it comes to real estate as an investment along with a counterargument for each.
Point: "Housing provides great returns over time. Just look at the price my parents paid for their house 30 years ago versus the value today."
Counterpoint: Housing barely keeps up with cash over the long-term and doesn't come close to the returns of stocks and bonds (click to enlarge):

Point: "Yeah but housing didn't really take off until the 1990s."
Counterpoint: If you're going to invest in real estate you can get much more diversification (by geography and real estate type) by investing in REITs, which have destroyed housing since the early 90s:

Point: "But if I only pay 10-20% for my down payment, leverage can juice my returns."
Counterpoint: Leverage is never a good reason for making an investment. As GMO's James Montier says, "Leverage is a dangerous beast. It can't ever turn a bad investment good, but it can turn a good investment bad."
You could leverage any investment and possibly increase your performance if thing go well. But good luck if things take a turn for the worse when you buy on margin. Leverage works both ways. Remember, unless you pay cash, your house is not only an asset, but also a liability on your balance sheet.  Leverage can amplify this liability by quickly wiping out your equity in a downturn.
Point:  "Stocks are dangerous investments and can crash so I feel more secure in a tangible investment like real estate."
Counterpoint: Housing prices had a spectacular crash following the latest boom (as many found out the hard way) and it's not the first time: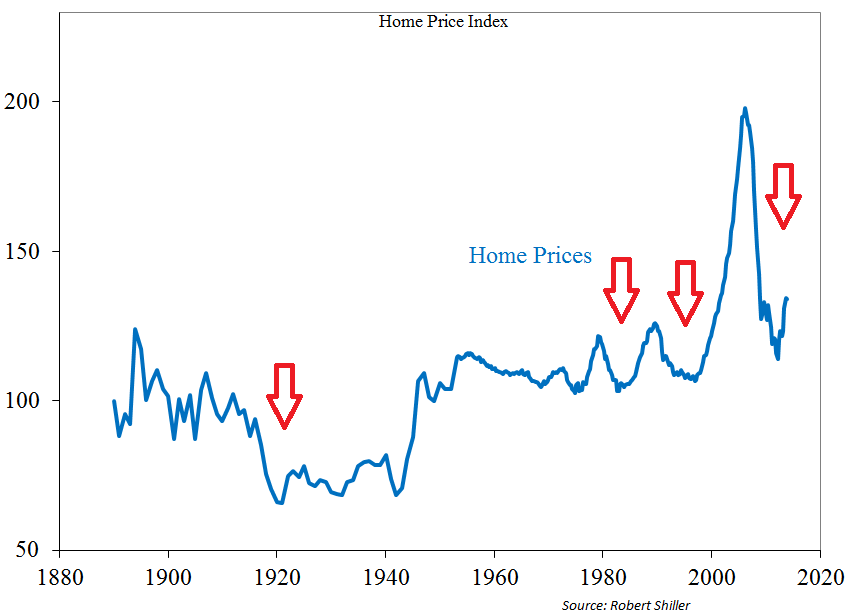 The lack of liquidity in housing is another problem.  Although it's probably a good thing most people can't easily sell their home so there aren't the irrational transactions we see in stocks at the extremes in market sentiment.
Point:  "I don't want to pay someone else's rent."
Counterpoint:  This is one I heard from many of my friends in the first few years right out of college. I actually think most young people are probably better off renting at the start of their working years until they can make sure they have chosen the right career path and city to settle down in. It's great to be able to build equity, but the flexibility you gain from renting can be just as valuable.
In most cases, young people should avoid buying the proverbial starter home. The switching costs (closing costs, broker fees, heavy upfront interest payments on a mortgage, moving costs, etc.) can be huge if you only live in a house for a few years and trading up doesn't always work out.
Point:  "My bigger house is going to make me happier."
Counterpoint: The research doesn't back this claim. Studies on money and happiness reveal that although we become more satisfied with our new homes compared to the older ones, there is no change in people's overall level of happiness after the trade up.  As with most large purchases, we adapt and the satisfaction wears off.
To be clear, I am in no way against homeownership. I own a home myself. It's one of the best purchases I've made.  But I would never stake my entire financial future on my house alone.
There are far too many risks involved and those risks are amplified by the fact that it's an asset that doubles as the roof over your head located in the city where you're employed.  My house is considered part of my overall net worth, but I would never want every dollar of savings I have in my home to ensure my financial freedom.
There are a number of benefits from owning a home — the psychic income you get from choosing your neighborhood and personalizing your house, a fixed payment for long-term financial planning and the ability to eventually have your housing costs paid off to offer flexibility in retirement.
But none of these factors mean that housing is your best or only investment option for building wealth.