"Investors have never liked uncertainty–and yet it is the most fundamental and enduring condition of the investing world." – Jason Zweig

The U.S. stock market has screamed higher in 2013 but it hasn't been easy.
LPL Financial has a great chart in their 2014 outlook piece that lays out what investors have had to deal with this year: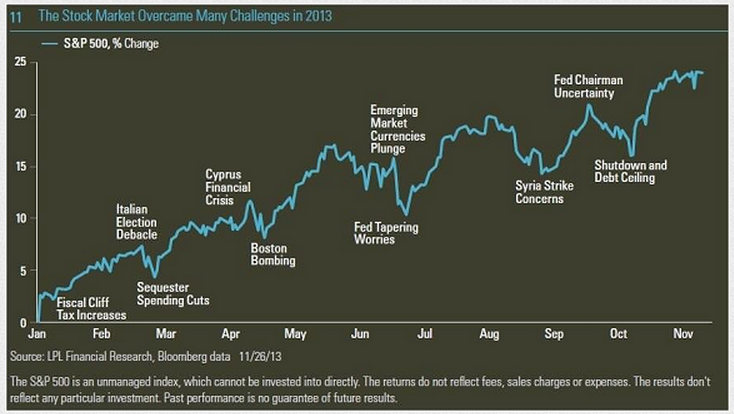 Do you remember all of these issues? At one time or another they were the hot topic du jour. The media latches onto them for a couple of weeks and freaks everyone out until things die down and they move onto the next big thing.
Speaking of noise in the market, take a look at this one that mixes in both the positive and negative factors the market has dealt with this year: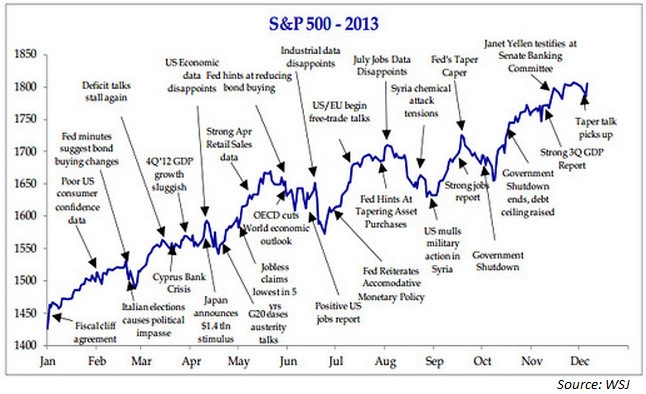 It's always something. It's no wonder so many investors get completely overwhelmed when they watch CNBC.
2013 isn't the only year we've dealt with challenges in a rising market. Stocks have doubled and then some since the end of the financial crisis but it hasn't been a steady rise in prices.
Eddy Elfenbein from Crossing Wall Street noted last week that during the bull market run since 2009 we have endured losses of 5.6%, 5.8%, 6.4%, 7.1%, 7.7%, 8.1%, 9.9%, 16.0% and 19.4%. And every single time we've bounced back and raced to new highs.
Looking back even further, Barry Ritholtz shared a chart from JP Morgan this week that shows the annual gains in the S&P 500 going back to 1980 along with the biggest loss for each year: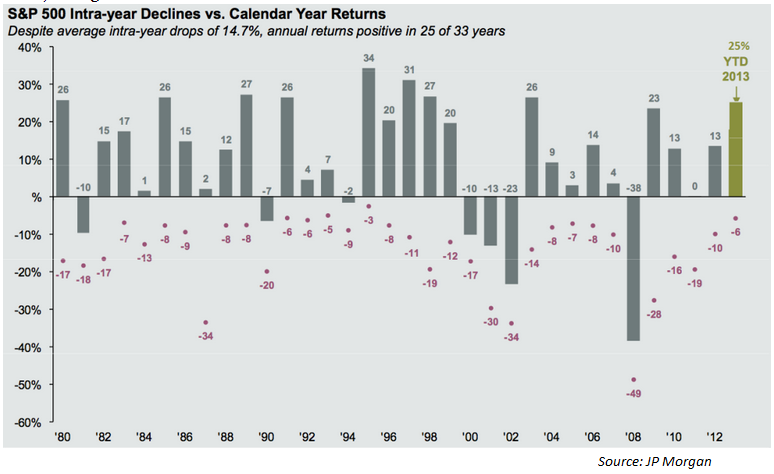 By my calculations, the average annual return since 1980 was between 9-10% while the average intra-year loss was between 14-15%.
It's amazing to consider that only 7 of the 34 years in the S&P 500 over that time frame ended the calendar year with a loss, yet every single year had a large loss at some point. In 19 out of the 34 years there was a double digit loss incurred at some point during the year.
This is why investing in stocks is hard. It's also why stocks earn the long term returns that they do. If there wasn't such a high probability of losing money every once and a while, stocks wouldn't produce such high returns.
That's the joy (and pain) of taking risks with your money.
To get the reward you must be able to take on the risk.
Further Reading:
How to ignore the noise
Sources:
Outlook 2014 (LPL Financial)
CWS Market Review – December 6, 2013 (Crossing Wall Street)
S&P 500 intra-year declines vs. calendar year returns (Big Picture)
[widgets_on_pages]