"There seems to be some perverse human characteristic that likes to make easy things difficult." – Warren Buffett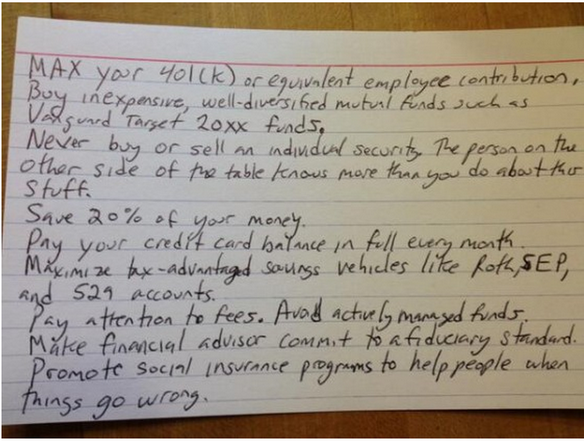 This notecard comes from Harold Pollack, a professor at the University of Chicago. It was posted on Twitter (via @m_sendhil) a few weeks ago. I love the idea of being able to distill as much financial knowledge as you can on a single notecard.

I believe that any good investor should be able to describe their investment philosophy in 30 seconds or less, so being able put down your entire financial game plan on one notecard is a reasonable goal.
Here is my all of the common sense financial advice you'll ever need…on one notecard: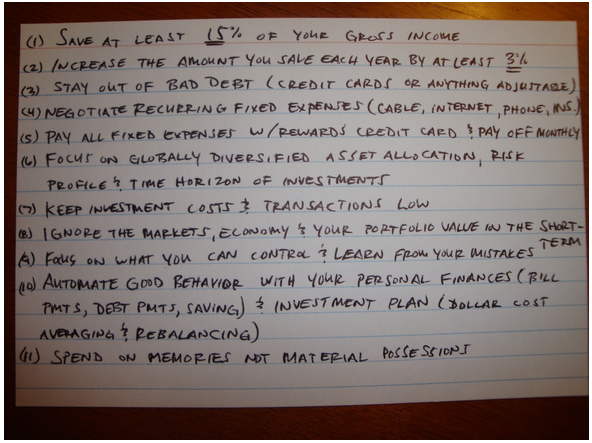 Feel free to share all the financial advice you could fit on a notecard in the comments below if you have anything to add to either of the ones shared here.
Further Reading:
Your financial life on an index card (Behavior Gap)
I wrote a post for Dividend Ninja this week on real estate.  Please give it a read: Are REITs a buy?
And here's the best of what I've been reading this week:
[widgets_on_pages]