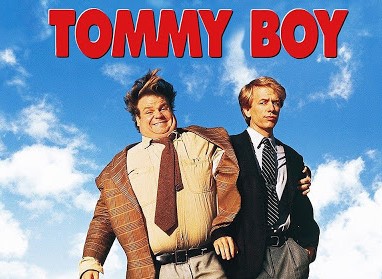 As far as I'm concerned, Chris Farley is the funniest person to ever walk the earth.
Matt Foley remains one of the greatest skits in SNL history. The Chris Farley Show was far ahead of its time and has been copied multiple times since it first aired. And the Chippendales audition gets me every time.
Tommy Boy is one of the only movies I've ever seen multiple times in a theater. Farley and David Spade display the perfect balance of physical comedy and sarcasm.
In a recent podcast with Rob Lowe (who was also in the movie and plays a wonderful comedic villain) Spade told an infamous story about a fight between the duo on the set while filming.
Farley and Spade were still cast members on Saturday Night Live while shooting Tommy Boy so they would fly back and forth between New York and Toronto. The travel and work schedule was overwhelming so when they got to Toronto late one night for another Tommy Boy shoot, Farley told Spade he thought he was coming down with the flu and wanted to get some sleep.
Spade still had some energy so he called up Lowe to have a drink at the bar. They went out, had a drink, went to bed and got up the next day for the movie. No big deal.
As Spade walked into the make-up room the next morning he could see Farley was noticeably upset.
He kept asking Spade over and over, "How was Rob Lowe last night?"
"Where's your precious f*cking Rob Lowe? How was drinks last night?"
Even though they spent nearly every day together, Farley was jealous Spade had a drink with Lowe and wouldn't drop it.
As they were waiting to film their next scene Farley walked over and stepped on Spade's hand as he was attempting to eat a tuna fish sandwich. Spade retaliated by throwing a can of Diet Coke at him. Farley then shoved Spade down the stairs.
It was a real fight.
Spade walked off the set right as they were about to shoot their next scene and said he was done. Cooler heads prevailed, they made up and the movie turned into a classic.
Farley had his demons but it's hard to imagine how one of the funniest people on the planet could be so jealous and insecure.
Spade also shared a story from his first year on the cast of SNL. It was John Lovitz's final season on show and Spade asked him why he was so depressed before taping one night.
Lovitz explained, "I'm only in two things. Dana [Carvey] is in five."
Spade wondered why he would even care how many skits he was in as long as he was on the show. You've been on the show for six seasons and everyone thinks you're hilarious he told Lovitz. It didn't matter. Lovitz couldn't accept someone else on the cast was getting more air time than him.
After that encounter Spade promised himself he would never let himself have that same mindset. He then admitted to Lowe, "I was like that within three shows."
Even uber-successful people experience jealousy and make relative comparisons about career accomplishments.
Getting exactly what you want in life can often be a letdown because it's so difficult to be content with what you have. Once the positive feelings wear off, you eventually need a bigger hit of dopamine to get the same emotional response.
This can either become a motivating factor or something that can send you into a jealous rage. The problem is there's a fine line between being content with what you have and striving to improve.
I still haven't figured out the right balance for this.
When my publisher approached me about writing a book back in 2014 I initially turned them down. I'm not an author. What can I say that hasn't been said already?
There was no need to write another investment book since the main principles of investing never really change.
Luckily a bunch of other authors convinced me it would be dumb to turn down an opportunity to get my name on the binding of a book, regardless of who actually read it. Writing a book is more like a business card than anything.
Since I went into the process with an apprehensive attitude my expectations for the number of people who would actually buy it were ridiculously low. I was happy to simply get it published and see the finished product. Anything above that would be gravy.
The sales from that book surpassed even my wildest dreams.
And because it sold a decent number of copies (for a finance book) my publishers approached me a few years later about writing a new edition. Since the book came out in 2015 I wasn't quite ready for that just yet but told them I had another idea I'd been sitting on that was something new and different from my first book.
They liked it and I went through the publishing process again.
The problem is this time I had inflated expectations. Since I had a baseline of sales from my first book I wanted this one to do even better. So I went into it with relatively high expectations.
And then…well, it didn't do very well at least by my now inflated expectations.
The number of books sold since it came out this earlier year would have far surpassed the initial expectations I had for my first book. But for my third book? It was disappointing.
Life is weird like that.
We're told we should judge ourselves based exclusively on our own personal growth but it's impossible to avoid making relative comparisons, either to the accomplishments of others or our own expectations.
I've spent years reading about behavioral psychology and the science of happiness and yet, it's impossible to avoid natural human emotions. You can read all of the stoic philosophers you want, but those quotes don't make it any easier to be human.
I understand the concept of process over outcomes as much as the next lifelong learner, but that doesn't negate the unconscious feelings I have when things don't go as expected. It doesn't matter how much you study the concept of loss aversion, the bad times will always feel worse than the good times feel good.
You can save yourself a lot of disappointment if you go into most things with low expectations.
The beauty of lowering your expectations is you don't put nearly as much pressure on yourself when you have the inevitable disappointment. It frees you up from focusing on all of the things that could go wrong because you start with the expectation that things will definitely go wrong at some point.
When your expectations are too high, it's easier to get down on yourself when things don't go as planned. When you start out with low expectations, you give yourself permission to try new things, explore, and go outside of your comfort zone.
Nick Murray once wrote, "No matter how much money you have, if you're still worried, you aren't wealthy."
This applies to other areas of life as well.
No matter how much you've accomplished in life, if you can't find some joy and contentment in the process, you probably aren't successful.
Further Reading:
Everyone Struggles
I didn't do the Spade-Farley story justice so it's worth listening to the entire interview:
Play Monster with David Spade
I love Tommy Boy so much I even included a scene from the movie in my first book: