As I continue my search for a new home in the real estate market I can't help but think about how different my home-buying experience is from what it was like for my parents or others in previous generations.
First of all the home search process is completely different. Everything is online these days and you can typically see 20-30 pictures of every house that's on the market on the Internet. You can make first level determinations from your own living room about the types of homes you would like to look at without having to go to dozens of places in person. You can pull up tax records, school district maps and neighborhood reviews on every house on the market. There's a huge time saving aspect of being able to cross off the ones you don't want to physically visit.
But the houses themselves are also completely different than they were in the past. The U.S. Census just released a report on the characteristics of houses going back to the early 1970s which make this abundantly clear:
In 1973, 49% of homes had no air conditioning. In 2015, just 7% of houses have no AC.
In 1973, 40% of homes had 1.5 bathrooms or fewer. In 2015, just 4% have fewer than 1.5 bathrooms.
In 1973, 64% of houses had 3 bedrooms while 23% had 4 bedrooms or more. In 2015, 42% of houses are 3 bedroom while 47% come with 4 bedrooms or more.
In 1973, the median house had 1,525 square feet of space. In 2015, the median house has 2,467 square feet of space.
In 1973, the average size of a U.S. household was 3.01 people. In 2015, the average size of a U.S. household is down to 2.54 people.
Houses today also have wireless Internet connectivity, better appliances, and are generally more energy efficient. They aren't making enough of them in my estimation — and I may be stating the obvious here — but new homes today look better, have more features and are higher quality than those built in the past.
To summarize — houses today have fewer people living in them with more space, more bedrooms, more bathrooms and more comfortable living conditions.
But wait…there's more.
Mortgage rates are at record lows: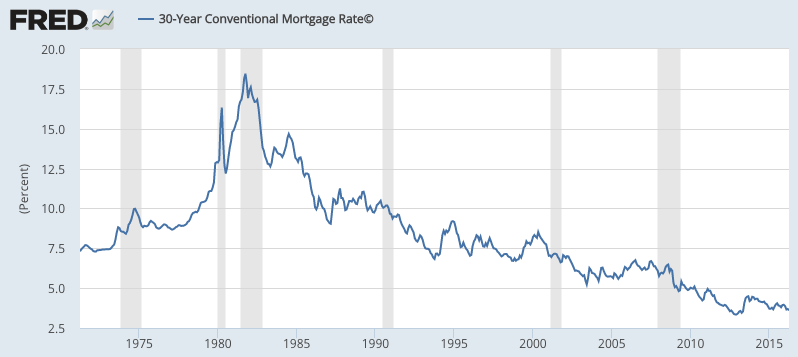 Everyone complains about record low interest rates from an investment perspective but this is one place were the financial consumer is benefitting. The median home in the U.S. is now worth $296,400. I took the average annual 30 year fixed mortgage rate going back to 1972 and applied those corresponding rates to this current median home value to see what the monthly payments worked out to:
So at today's median home value — $296,400 — and at current mortgage rates — 3.63% — the monthly payment would come out to $1,349/month (before taxes, PMI, down payment, etc.). That same mortgage at 1981 interest rate levels would have cost you more than three times as much or $4,136/month. Your money goes much further at today's rates than any time in the past 40+ years.
People talk about a student loan crisis these days, but I'm guessing the savings we now receive from lower interest rates on home loans has to dwarf those in comparison. Homebuyers in the 80s and 90s could always refinance but that involves costs every time it occurs.
Houses are obviously more costly today than they were back in the 70s and 80s, but as Robert Shiller has pointed out in his research the average home generally appreciates at right around the rate of inflation over the long-term (with the caveat that there are always outliers in certain areas that make things unaffordable for large groups of buyers). Once you factor in the tax savings on the deductible interest costs you can basically get a mortgage interest rate today that will be equal to or less than the future rate of inflation. That's not a bad deal.
Owning a home isn't for everyone. Plenty of people learned this the hard way in the real estate boom and bust. Leverage can be painful on the downside. And young people still trying to figure out what they want to do with their life are probably better served renting because of the flexibility it allows in being able to move to other cities for employment opportunities. My general rule of thumb is that you shouldn't buy a home unless you're willing to own it for at least a decade.
It's understandable that many people are still scarred from the real estate crash, but buying a home today seems like a pretty good deal to me. For those willing to act responsibly with their home buying decision, it's quite possible that there has never been a better time to be a homeowner.
Source:
Characteristics of New Housing (U.S. Census)
Further Reading:
The Pros & Cons of a 30 Year Fixed Rate Mortgage