Tesla is one of the hottest company in years. Pre-orders for the new Model 3 electric car are now over 325,000…for a car that won't be released until late-2017 at the earliest. Elon Musk is a bonafide celebrity at this point. He followed up Tesla's shocking numbers by landing a SpaceX rocket on a floating barge in the middle of the ocean. Not a bad couple of weeks for Musk.
SpaceX is still a private company, but Tesla's stock is widely followed in the press and by many investors.
In the first six weeks of 2016, Tesla was down 35%. Since mid-February it's now up 74% from the low: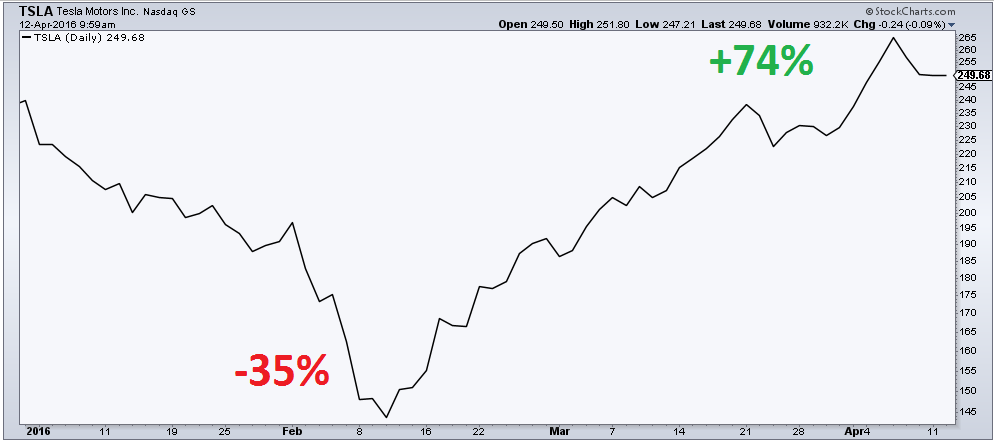 Huge gains and losses are nothing new for TSLA shareholders. Here are the annual gains and maximum annual drawdowns on the stock since 2012: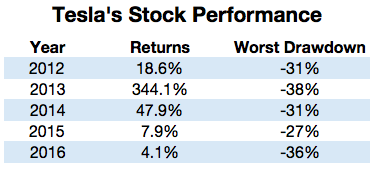 The stock is up nearly 800% in this time yet it experienced a crash in the share price every single year. The overall market has yet to reach the 20% threshold for a bear market in the past seven years, but Tesla has had a bear market every single year for the past five years running.
One thing's for sure — the market has no idea how to value this company.
The problem with story stocks such as Tesla is that you constantly hear about them because they're in the news so much. It's always the most complicated stocks that you see on financial television and read about on financial websites or blogs. Complicated stocks are usually those that have (a) had a recent huge run up in price, (b) released a new revolutionary product, (c) undergone a management or strategy shift in the company or (d) seen the stock get completely destroyed.
These situations are not easy to handle from an investor's perspective, but we're constantly tempted to catch a falling knife, jump on the momentum bandwagon, buy into the next Google or take part in a massive turnaround. These are the situations where lots of money can be made.
On the flip side, you can also lose your shirt on these types of investments.
Story stocks are always in the news because they're glamorous and have a good narrative attached to them. That's why people pay attention. And they feel left out if they're not participating somehow in those names.
Tesla could revolutionize the car-owning experience and you still might not make any money on the stock. Or it could turn out to be one of the great investment opportunities of your lifetime, even after rising 800% in a little over four years. It all depends on how expectations come in line with the actual results. The market is having a hard time figuring this out.*
I read the Elon Musk biography recently and I have to say that I'm a believer in the guy. I'm nowhere near as pessimistic on him or his company as others in the financial realm seem to be. After reading the book I told my wife that it made me want to go out and buy a Tesla. Having said that, I have no idea whether or not TSLA the stock is a good investment from current levels. Maybe it is or maybe it's a huge short waiting to happen. Either way, it's too hard for me to know one way or another.
Buffett has said in the past that he has three boxes for investment ideas that get thrown his way:
In
Out
Too Hard
For me, a company like Tesla falls in the 'Too Hard' category. It's OK to admit that there are certain situations where you don't have an edge. I find the investments that I don't make are often far more important than the ones I do. You don't have to swing at every pitch.
Further Reading:
The Stock Market's Secret Weapon
*Musk even talked about this process in his biography in a note to his employees: "Public company stocks, particularly if big step changes are involved, go through extreme volatility, both for reasons of internal execution and for reasons that have nothing to do with anything except the economy. This causes people to be distracted by the manic-depressive nature of the stock instead of creating great products. For those who are under the impression that they are so clever that they can outsmart public market investors and would sell SpaceX stock at the "right time," let me relieve you of any such notion."