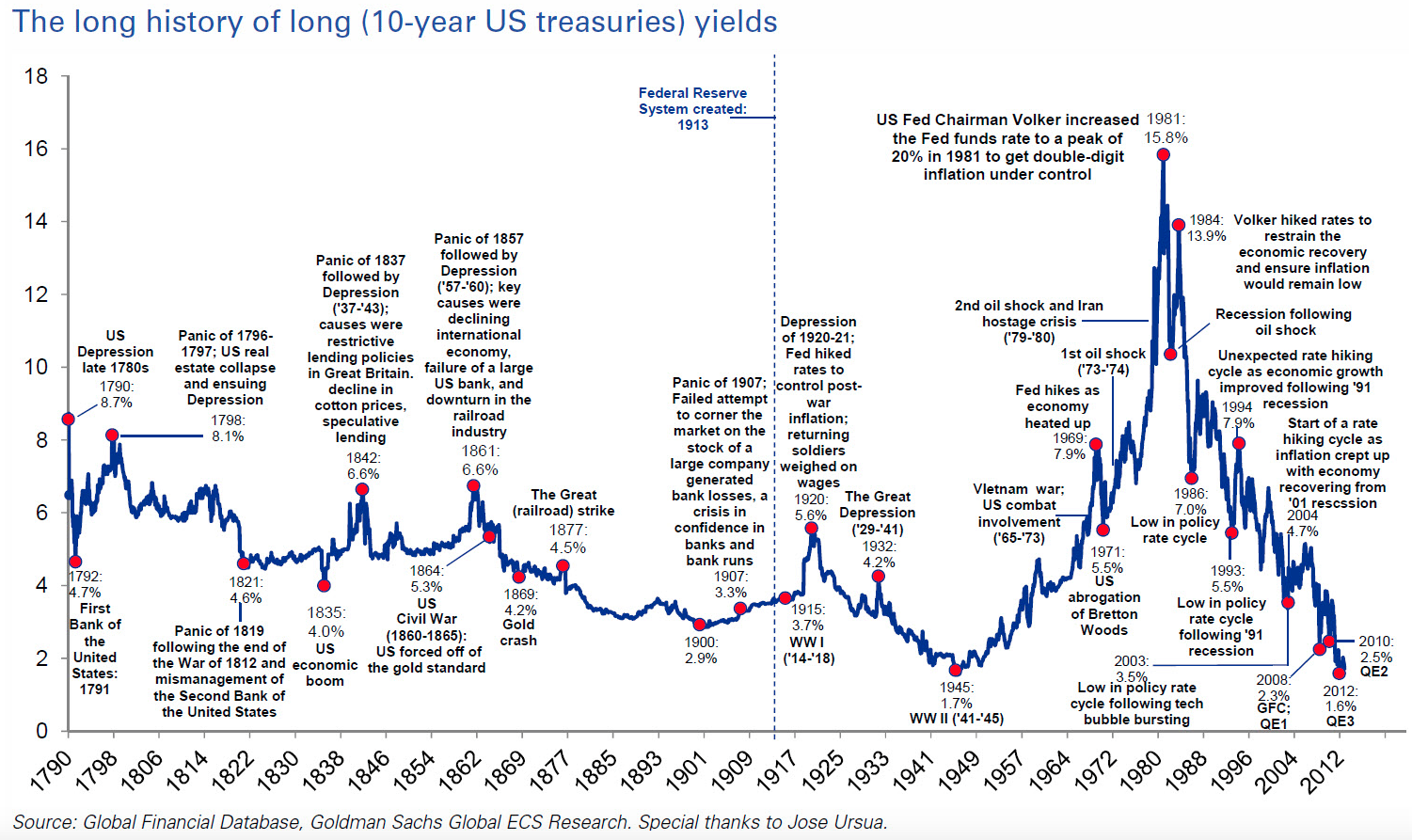 As I've stated in the past, one of the hardest things to do in all of finance is predict the direction and magnitude of interest rate movements. The variables involved are seemingly endless. The chart above shows interest rates over the past 225 years. Many use this historical construct to build their forward-looking interest rate forecasts. Someone will be proven right from this exercise, but it very well could be for the wrong reasons.
Let's look at a handful of interest rate forecasts seen through the lens of different behavioral biases:
Recency Bias: "The trend in rates has been down for 30+ years. Why fight it?" This has certainly been the right call, especially when so many have been predicting higher rates the past few years. But this line of thinking will become dangerous some day as many will be caught flat-footed at the turn. Interest rates cycles seem to last longer than most, but all market trends must come to an end at some point.
Anchoring: "Interest rates went to 15% in the early 1980s. Surely we're heading there again in the not-too-distant future." Many investors that experienced the inflationary-1970s period know firsthand how difficult it was to invest in a rising rate environment. It's difficult for people to avoid anchoring their forecasts to that enormous peak on the graph. 
Representativeness: "Rates will stay lower for longer like the aftermath of the Great Depression. No, they're sure to scream higher like the 1950s-1980s time frame." Per Kahneman and Tversky, representativeness entails looking at an event and making a judgment as to how closely it corresponds to other events found in your sample. When you look at that graph there are really only a few different long-term cycles — falling rates, rising rates and sideways rates — and all occurred over multi-decade periods. The sample size we have to draw from as far as interest rate environments go is fairly small. Chances are the future will be completely different than the past.
The Availability Heuristic: "Interest rates will never rise. The Fed will never raise rates." This is a mental shortcut where people rely exclusively on immediate examples that come to mind. The Fed hasn't raised rates in over a decade and interest rates have been low for some time now, so many extrapolate this trend indefinitely into the future.
Gambler's Fallacy: "2010: Rates are going to rise. 2011: Rates are going to rise. 2012: Rates are going to rise. 2013: Rates are going to rise. 2014: Rates are going to rise. 2015: OK, this time rates have to rise." Like the coin flipping guesser who thinks seeing six tails in a row makes it more likely that they'll see a heads on this next flip, some pundits seem to operate under the assumption that they have to be right eventually (and they probably will if they keep at it, but not because of any great foresight).
Hindsight Bias: "I knew rates were never going to rise." Many people assume that the lower rate for longer scenario was obvious now that they've seen things play out. Basically no one was predicting rates would be at these levels following the financial crisis. Investors will continue to look back at the direction and magnitude of future rate moves and assume it was obvious. Things only look obvious in the markets in hindsight.
I'm not suggesting every single interest rate forecast (or forecaster) is completely biased in their views, but it always makes sense to reassess your opinions in light of potential cognitive dissonance.
Further Reading:
What if Risk Free Returns Slowly Go Away?
Now for the stuff I've been reading lately:
Subscribe to receive email updates and my quarterly newsletter by clicking here.