Every time something unexpected occurs in the markets people immediately flip out like something is broken. The markets are constantly surprising in a number of ways, but most of the things that seem completely out of the ordinary have happened in some form or another in the past.
This year the big worry is that fact that both stocks and bonds could finish the year in negative territory. In U.S. markets, bonds are slightly positive on the year while stocks are down anywhere from 5-10%, depending on the market cap or investment style. There's a real possibility that cash could outperform both stocks and bonds this year.
I wanted to see how often cash has outperformed both stocks and bonds in the same calendar year. Here are the results since 1928: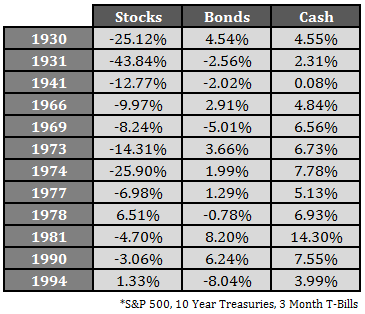 It's actually happened twelve times over the past ninety years or so, a little more than once every decade. If markets are cyclical and mean revert eventually you could actually say that we're overdue for this type of performance since it hasn't happened since OJ decided to go for a long drive in his white Bronco.
Many of those years involved much higher interest rates, thus higher yields on both cash and bonds, especially in the 1970s and early-1980s. It's a little different this time around because interest rates are so low. The true outliers are when both stocks and bonds are negative during the same year, something that's only happened on three separate occasions during this time frame. With low rates it's certainly a possibility this year.
Make of it this type of market environment what you will. Some seem to think it means the end of the financial markets as we know them. I tend to think this is just what happens after multiple years of solid gains. It's just one year so I don't think there's a whole lot you can glean from this information other than the fact that you have to prepare yourself for the times when risk assets are risky.
Further Reading:
When Correlations Go To One
Subscribe to receive email updates and my quarterly newsletter by clicking here.
Follow me on Twitter: @awealthofcs
My new book, A Wealth of Common Sense: Why Simplicity Trumps Complexity in Any Investment Plan, is out now.