Some random thoughts and observations on a wild week in the markets:
1. These are the types of environments where outcomes tend to trump process. It's much easier to preach process over outcomes when markets are calm or things are going your way. When things go haywire as they did this week, everyone pays more attention to the short-term market outcomes. That doesn't mean everyone abandons their investment process, but the temptation to make your decisions based on the most current market outcomes becomes much harder to resist.
2. Huge market swings can lead you to believe that you're right just because the current market direction agrees with you. As stocks were getting slaughtered on Monday and Tuesday a number of commentators and pundits were quick to proclaim that this was finally a sign that the Fed's policies had caused so much damage in the markets that the whole thing was a house of cards that was finally collapsing in on itself. That lasted until markets rallied on Wednesday and Thursday when everyone on the other side used the rally to suggest that everything was perfectly fine.
It always feels great when the market seemingly agrees with your stance, but in this case both the bulls and the bears are probably suffering from a heavy dose of confirmation bias. The fate of the world's financial markets aren't decided in a couple days' worth of gains or losses. There's no sudden death, winner take all here. Markets are so noisy over short time frames that trying to discern any reasonable conclusions based on how they're acting is nearly impossible.
3. Investors have their finger on the trigger. When markets take a dive everyone quickly looks to assign a catalyst. Slowing growth in China and increased uncertainty were the usual suspects this time around. Markets are always uncertain and the China slowdown isn't exactly breaking news at this point. There's no way to know for sure what caused this latest downturn, but my best guess is that investors were simply looking for a reason to sell after a six years of large gains.
See the enormous equity fund outflows in this chart from Bank of America (via Victor Reklaitis at MarketWatch):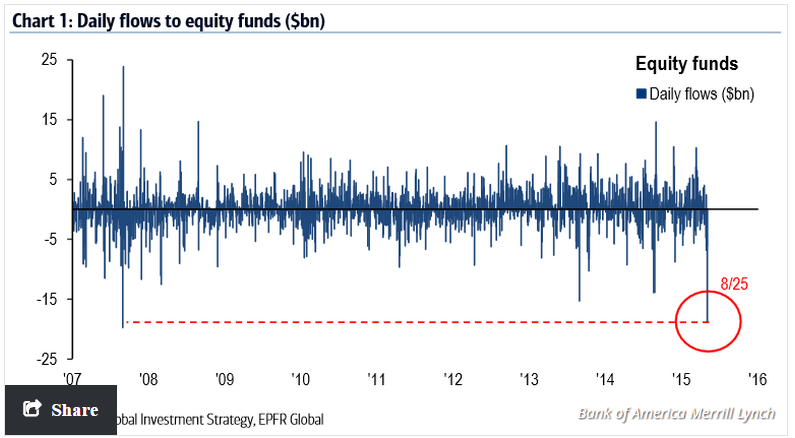 Markets were down leading up to the start of last week. People looked around Monday and Tuesday and noticed panic in the markets for the first time in a while and decided to join in on the fun. It was the largest weekly outflow from stock funds since they started tracking this data back in 2002. I have nothing to back up my hypothesis here other than the fact that humans have a tendency to exhibit the herd mentality during a panic. That doesn't make for a great narrative, but the narratives rarely tell the entire story.
4. Big market moves make it that much harder to ignore the anchoring bias. When I witness the types of historic two or three day crashes and rallies like the ones we just went through I find it very difficult to avoid the anchoring bias. It becomes difficult to ignore the high and low prices points in the overall market, individual stocks or ETFs. The following thought process is easy to latch onto:
Can you imagine if you would have sold at the highs on Friday before things fell apart on Monday and then bought back in at the lows near the end of the day Tuesday just before the huge rally on Wednesday and Thursday?
I've always looked at volatility as an opportunity and not something investors should be afraid of. But I think that second-guessing yourself about what you wish you would have done (or not done) can be a slippery slope. It always looks much easier after the fact.
5. The quick, V-shaped recoveries are going to lead to complacency at some point. Many smart commentators have warned about the potential for a Minsky moment these past few years. The worry is that stability eventually lead to instability as complacency sets in during calm markets and investors begin to become lax on their risk controls.
While we finally got the long-awaited double digit correction in stocks, at some point they're not going to snap back quite so fast. After being down around 5.3% on Monday and Tuesday, the S&P 500 actually finished the week up almost 1%. It's always nice to see such a short window of pain as a stock investor, but it's not something that we should expect to happen every single time the markets stumble. You can't always plan on the stock market bailing you out so quickly.
Source:
'Total Risk Surrender:' Record $29.5 billion yanked from stock funds (MarketWatch)
Subscribe to receive email updates and my quarterly newsletter by clicking here.
Follow me on Twitter: @awealthofcs
My new book, A Wealth of Common Sense: Why Simplicity Trumps Complexity in Any Investment Plan, is out now.