"Understand that just as it is complicated to make things simple, it is simple to make things complicated as well." – Anonymous

I was listening to Colin Cowherd's ESPN radio show on Monday and he shared some interesting insights on the game plan that the Seahawks used to destroy the Broncos in the Super Bowl.
Cowherd interviewed a couple of the players and each stated that Coach Pete Carroll didn't make any huge changes to their game plan going into the big game. In fact, Richard Sherman said that it was by far the team's simplest game plan of the season.
Seattle is one of the youngest teams in the league so Carroll decided to keep things loose. Peter King described a practice he attended leading up to the game:
Carroll's Seahawks practice to the constant and very loud drone of music, hip-hop and rap mostly. Early in the week, Carroll will sneak in a James Brown or Earth, Wind and Fire tune from his youth, or maybe Michael Jackson. But by Friday, it was mostly unrecognizable to this 56-year-old Springsteen and U2 fan. Luckily, I had Shazam, that app that allows you to hold up your phone when a song is playing, to learn what it is.
 Among what was played, I'm guessing at about 90 decibels, for the entirety of Friday's practice: "Fast Lane," by Bad Meets Evil, "More Bounce to the Ounce," by Zapp, "We Own It," by 2 Chainz, "Last of a Dying Breed," by Ludacris, "We Ready," by Archie Eversole, "Ambitionz Az a Ridah," by Tupac, and "Hold Me Back," by Rick Ross.
Seattle kept it simple and tried not to overthink the biggest game of their lives (also, I love that they still listen to Tupac).
On the other hand, Peyton Manning and the Broncos used the two weeks of preparation to add in a bunch of new wrinkles to their strategy. They were almost over prepared for the game by focusing on every single little detail.
Manning is one of the all-time greats with an unbelievable knowledge of the game. Cowherd acknowledged this on his radio show but made the point that Manning looked extremely tight especially once the Seattle players hit him a few times. He was rattled.
This would seem to follow the Mike Tyson logic that "Everyone has a plan until they get punched in the face."
The problem with a complicated approach is that once you do get punched in the face, it's very difficult to make the right choices. If you think you have every detail figured out in advance and things don't go the way you planned, it's easier to lose control and make mistakes.
Whether it's sports, business or your investments, it's not necessarily your actions that determine your success. It's your reactions.  How you react when things go wrong will ultimately determine your success.
It can be much harder to stay levelheaded when you fill your decisions with complexities.
As I showed last week (see Buffett's Fourth Law of Motion), simple investment strategies often produce the best results from actual investors.  This is because it's much easier to control your behavior with a simple approach, even one that's suboptimal from from a strategic point of view.
I subscribe to the theory that 99% of the time less is more and so does Pete Carroll (it also helps to have one of the greatest defenses of all-time).
In case you haven't seen it yet, my favorite picture from the NFL this season is the Evil Manning. Bill Simmons has been running this in his weekly Grantland column since the start of the playoffs and it never gets old for me. Enjoy: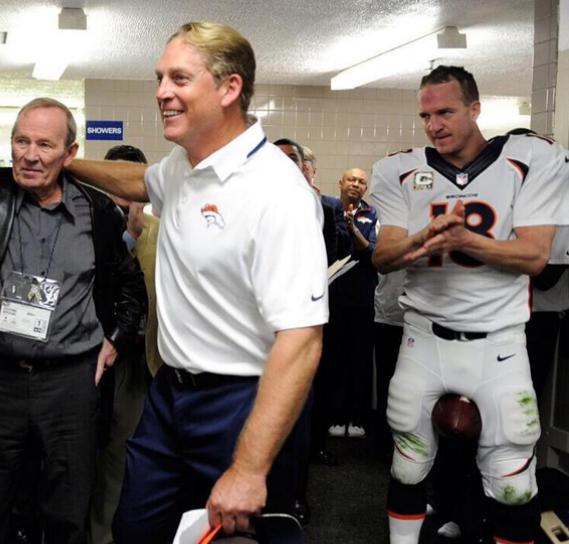 OK, I have now fulfilled my quota for sports analogies for the year and it's only February.
Update:  A trusted long-time reader passed along the following additions to this post with some great thoughts on using Pete Carroll's ideas and Russell Wilson's unselfishness as a model for organizational culture and behavior. These are his thoughts:
Prior to the Super Bowl Russell Wilson told his team the story of how his father used to motivate him to seize every opportunity in life by asking the simple question, 'Why not you?'  Wilson, a 5'10" undersized quarterback from the Big Ten was selected in the third round, made $526,217 during the 2013 season, and was never picked by the experts to win the big game.
Last week an interesting story from a college friend came to light about Wilson and the kind of person he is.  After a big win for the University of Wisconsin the team and their fans went out to the most popular bar in town to celebrate.
Here's how the friend described how things played out:
Wisconsin, ranked 20th, had just throttled Purdue 62-17 behind Wilson's ho-hum 205 yards passing, 76 on the ground and three total touchdowns. Many of the Badgers were out celebrating, and the bar was packed to capacity. A long line had formed outside.
Wilson was with his now-wife, Ashton Meem, and her parents at the end of the line. Because Tice knew the bar's owner, Wilson texted his friend to see if he could work some magic and sneak him in.
"I was like, Russell, just go up to them and tell them who you are," Tice said. "You'll be good, trust me."
But Wilson didn't want to pull that card. So he waited.
"I go out there, and sure enough he's at the back of the line with Ashton and her parents just hanging out," Tice said. 
Sounds like the kind of thoughtful guy you want leading your team.
Peyton Manning on the other hand is a 6'5" prototypical quarterback from the mighty SEC, picked #1 overall, pre-ordained as the greatest quarterback of all-time and will make $18M in salary in 2013.  The way the two men and their team's approach the game is just as different as their statistics. 
From the WSJ:
The only thing more terrifying than playing against Peyton Manning is playing with him. Let's be clear: Players love everything that comes with playing with Manning. He's a great quarterback and by all accounts a fine fellow. Teammates get Super Bowl appearances, eye-popping statistics and big contracts out of playing with him.
There's only one problem. He's kind of annoying.
Walking by Manning in Denver's locker room is a source of anxiety for all Broncos players, they say. Running back Ronnie Hillman said he tenses up when he brushes past him. This is because Manning is known to give passersby a pop quiz about Denver's upcoming opponent. Backup quarterback Zac Dysert said the questions Manning asks him usually focus on where the ball should go against a particular coverage. It is "definitely easy to be scared" of Manning, he said.
And you wonder why the Bronco's center may have been so worried about Omaha, Lincoln, or Grand Island that he sailed the first snap of the game over Peyton's head for a safety.  Denver was a one man show that tip-toed around Payton's complexity, quirks and demands to operate within his system.
Wilson was more concerned with winning games as part of a team than solidifying a legacy, so he operated in a loose, simple, but well executed system, and in the end won the game and created his own legacy.  He's always been humble enough to handle his new accolades so expect more to come from Russ.
Seattle's success can also be attributed from the organizational culture instilled by Coach Pete Carroll.  More from the Peter King MMQB article:
When "Hold Me Back" came on, the team was practicing red zone plays. Important tuneup for the biggest game of their lives, and the last time they'd go full speed before the game. Between snaps, the entire defensive line was dancing on the field. Quarterback coach Carl Smith, 65 and with a bum hip, was even swaying. Carroll saw that, and smiled. Then the ball was snapped, and backup running back Christine Michael pivoted left out of the backfield and went down. A couple of defenders, Clinton McDonald and Bobby Wagner, hustled over to Michael, who was slow getting up, and each took a hand as all three laughed about something. This is what I saw during the week: a team having fun at practice, like it was some dance party, and a team that really gets along. And works at a fast pace.
"I'm glad you saw that," Carroll said. "That's real. That's who we are."
For those who think music is counterproductive, that you need to have teaching moments at a football practice without having to shout over music, and that players switching jerseys for no good reason (Marshawn Lynch was swimming in tackle Breno Giacomini's shirt on Friday) is a distraction, I have one score to point out:
Seattle 43, Denver 8.
Who wouldn't want to go to work every day in an environment where 65 year olds sway to James Brown, and 2 Chainz?
Carroll created the team by instilling a foundational approach where hard work and dedication are balanced out with fun and rewarding those who deserved it most; not those anointed by tenure and pay.  Say what you will about Carroll and his days at USC, but the man understands creating a culture first, and then establishing a team to live within that world.
If you're in charge of an organization, don't be Goliath and rule with an iron fist.  Instead create a Carroll-like culture that clearly lays out expectations, and at the same time provides a flexible system for multiple approaches and personalities to help your team win the big game.
Zappos and Google are great models of instituting a culture that drives the goals of the organization.  If you're not in charge, then seek a system and a culture that rewards results, not the number of hours billed.
Would you rather work for an investment bank that works their interns until they drop dead, or Patagonia where they surf at lunchtime when the waves are up? In the famous words of Yvon Chouinard, "Let my people surf!"
Old Man Canyon – Wiser:
I discovered this song watching the Showtime Series called Shameless.  If you haven't seen it, it's a show about a tight-knit but sometimes degenerate family called the Gallagher's.  They operate out of tough spots through the help of their family and community of underdogs by finding creative solutions to make up for their short-comings. A little like the Seahawks…
Ben – Remember, this has nothing to do with your allegiance as a fan of either team or any player.  It's about how you approach your job and your life.  You can work hard, do the right thing and still have fun at the same time.  In fact, you will probably be much happier if you do treat life in this manner.
Sources:
The Herd (ESPN Radio)
Monday Morning Quarterback (Peter King)
Super Bowl 2014: Peyton Manning is Mr. Annoying (WSJ)
Seahawks QB Russell Wilson tries to follow guiding principles in life (Ultimate Texans)
[widgets_on_pages]
Follow me on Twitter: @awealthofcs