"The rich invest in time, the poor invest in money." – Warren Buffett
Some nice pep talk material via the Wall Street Journal: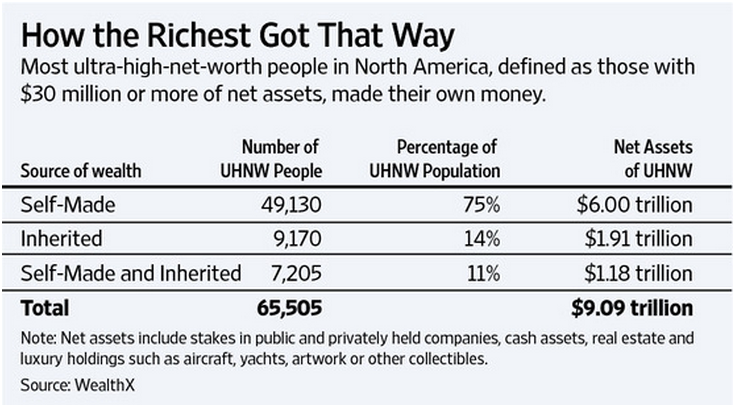 Seventy-five percent of ultra-high net worth people ($30 million or more in net assets) in North America are self-made according to this survey.
That's a shocking number, but one that should offer a glimmer of hope to anyone with entrepreneurial aspirations.
Often these UHNW individuals start their own businesses and invest in themselves to create their wealth. Something to consider.
Another stat in the article caught my eye:
"U.S. Trust's survey found that 53% of respondents who had children age 25 and older had disclosed only a little bit of information about their wealth to their kids. Another 8% had said nothing at all—an approach that, according to the experts, courts disaster."
Money is a taboo subject for so many families (not just the rich). Sex, politics, and religion get brought up at the dinner table more often than money issues.
If more people had money conversations to share ideas and ask for help, people wouldn't have to wait for their own personal financial crisis to try to turn things around.