Large cap U.S. equities continue to hold up well with the S&P 500 down roughly 12% from its all-time highs reached last spring. To some degree, this performance has masked the global bear market going on in the rest of the world. Take a look at this list of country ETFs from Bespoke Investment Group: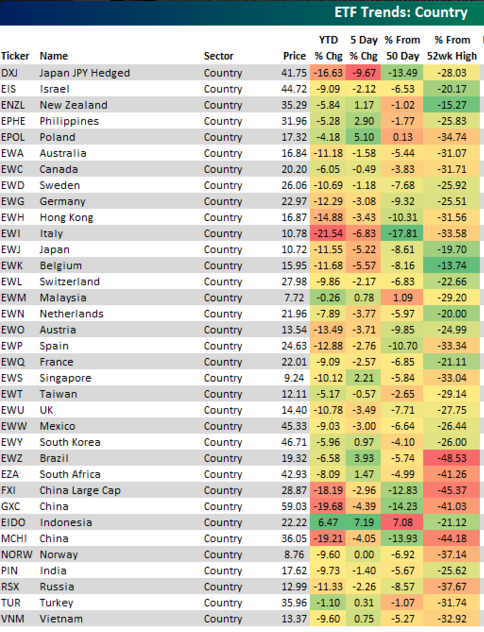 The average drop from the 52-week high on this list is just shy of 30%. Not too pretty. But beauty is in the eye of the beholder in these situations. Historically, buying global stocks after they have fallen into bear market territory has been rewarding for investors.
I went back and looked at the MSCI World Index bear markets going back to 1970. In more than 45 years there have been ten of them or one every 4.5 years or so. Here they are using monthly returns (so some of these drawdowns were actually larger than they appear because the tops and bottoms occurred intra-month, but this is close enough):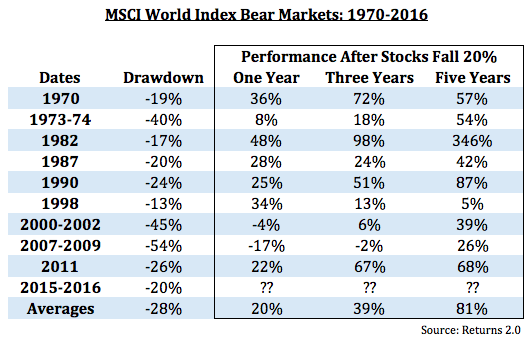 I looked at each of these bear markets to see what would happen if an investor bought stocks the month after they fell into a bear market (down 20%). This means that there were a number of cases in which stocks continued to fall in the short-to-intermediate term well past the 20% mark.
There were only two times out of the ten bear markets where stocks weren't higher one year later. Only once were stocks down three years later. And there was never a period where stocks weren't higher five years after initially falling 20%. The paradox of investing is that the best times to put your money to work are often when things seem like they're never going to get better.
Of course, things could always get worse before they get better. Central banking policies could wreak havoc on people's confidence in the system. We could see a global recession. The U.S. could join the party and continue to fall even further. But investors and savers alike have to remember that falling prices are a good thing for future returns. I looked at the dividend yields for each of the country ETFs listed above. The average yield is now around 3.3%. That's more than one percent higher than the current yield on the S&P 500.
Using the past as our guide, it's clear that bear markets tend to be a great time to put money to work for those who can look past short-term volatility. Long-term savers and investors should see this as an opportunity, not a crisis.
Global stocks are on sale.
Further Reading:
To Win You Have to be Willing to Lose