A reader asks:
I have a fairly large sum of money to invest, but I'm nervous about current stock market levels. What are my options to put this money to work in the markets?
I've actually been getting this question or some variation of it from quite a few people for the past few years. There are no easy answers when you have a large sum of money to put to work, but things become even more nerve-wracking after large market gains. People are always worried that they're going to put their money to work right before the market takes a dive.
The two most common options most people consider are: (1) pick a long-term allocation and put the entire lump sum to work or (2) dollar cost average (DCA) a set amount periodically over a set amount of time. The first makes the most sense from a historical perspective because stocks are up roughly 70-75% of the time a year after you invest. But those probabilities offer little consolation after the S&P 500 has risen every single year since 2009. And DCA is a slow and steady strategy that could force you to miss out on future gains. Both can be psychologically challenging.
There is a third option that not as many people consider — value averaging. Developed by Harvard professor Michael Edleson, value averaging (VA) is a systematic strategy that is a variation on DCA that takes into account market movements for future contributions. Whereas DCA invests a set amount each time, VA seeks to put more money to work when markets have fallen and less when it has risen.
I created a simple example to show the difference between the two. Here is the DCA version with a $1,000 investment made on the first day of each period: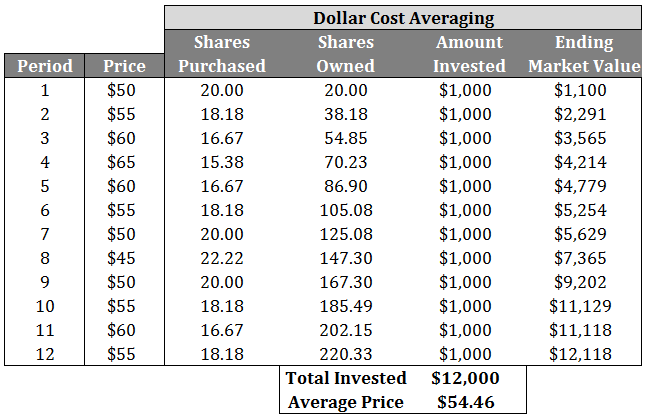 With DCA you buy more shares when markets fall and fewer when they rise, but it's the same amount invested each time. Now here's value averaging: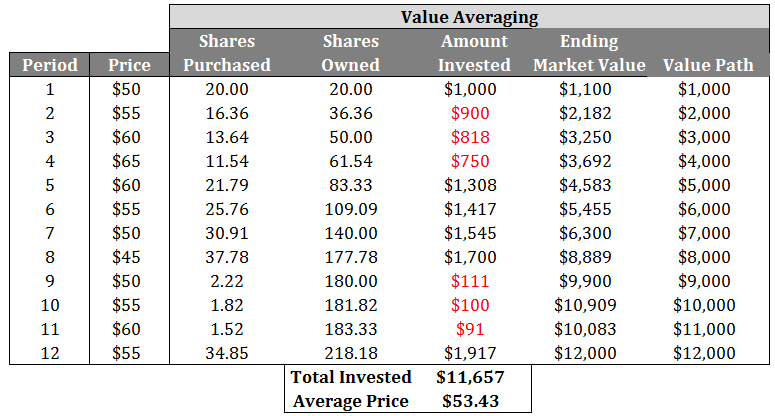 In a VA strategy, you set a certain amount you'd like to hit each period ahead of time, called the value path. If the market pushes your portfolio's market value higher than your value path, you put less money to work (highlighted in red). With a long enough contribution period, you could even sell some shares to stay on the value path track if markets rise enough (or you could simply hold tight and not put any new money to work). If the market drops your portfolio's value below the value path, you put more money to work.
In this example, there were fewer total shares purchased in the VA strategy, but you would have bought those shares at a lower average cost. That's what happens in a rising market. In a down-trending market, you would be investing more money in the VA strategy than the DCA. The hope is this helps assure investors they aren't completely piling in right before a market peak.
Here's a quick breakdown of value averaging:
Pros: It's a formulaic, rules-based strategy. There's no guessing as long as you set the strategy in advance. The system forces you to put more money to work when markets are falling and less to work when they're rising, so it's a disciplined way to force yourself to buy more at lower prices. Edleson has back-tested both strategies back to the 1920s and his work shows VA offers better outcomes the majority of the time when compared to DCA.
Cons: As with all strategies it's not going to work in all environments. In a hard charging bull market, like the one that we're currently in, a lump sum investment would turn out to be the better option from a performance perspective. And even though it's rules-based, it's difficult to automate. You have to calculate the investment amount every single period you plan to invest. While the calculations are fairly straightforward, inertia and second guessing can set in when you have to force yourself to take action with your savings and investment contributions. If you can't make yourself follow the plan it's never going to work.
It's easy to Monday morning quarterback these types of decisions and you'll never perfectly stick the landing when making a move with a lump sum of money. It would be great if the markets would just crash very quickly and make it easy for people in this situation to buy in at lower prices, but even that requires courage to act in the face of panic. The point is to have a plan in place that guides your actions instead of making things up as you go.
For those who would like to get a little more advanced than a simple DCA strategy, value averaging is an interesting option. Edleson wrote an entire book on his approach. There's more than enough information on the historical results in the book if you're interested in learning more:
Value Averaging: The Safe and Easy Strategy For Higher Investment Returns
Further Reading:
Diversifying Across Time